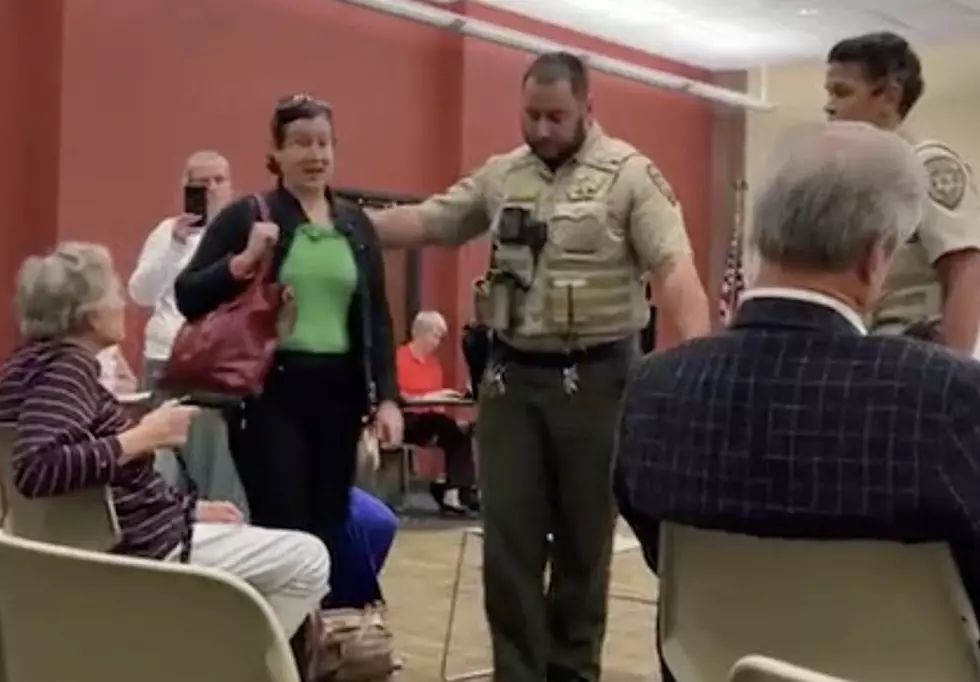 Lafayette, Louisiana Mom Forcibly Removed From Library Board Meeting in January Sues Board President
Credit: Reproductive Freedom Acadiana/Instagram
LAFAYETTE, La. (KPEL News) - A local mother who was escorted out of a Library Board of Control meeting earlier this year is now filing a First Amendment and open-meetings violations suit against the library board president Robert Judge, and Lafayette Consolidated Government.
The Louisiana Illuminator reported on Tuesday that Melanie Brevis, who is part of the group Lafayette Citizens Against Censorship, is filing a lawsuit against both entities in response to the removal of Brevis from the January Library Board of Control meeting and for various policies put in place that they say violates open meetings laws.
The group confirmed the reporting on its social media.
Via the Illuminator:
For several years, Lafayette has been the scene of high-profile clashes over library material. The board's monthly meetings often devolve into chaos, which puts the board at risk of violating Louisiana's open meetings law.

"It feels like over time, the board of control, specifically Robert Judge, have slowly been eating away at our First Amendment rights," Mejía said in an interview. "The First Amendment right to free speech is the most fundamental right we have as American citizens. For him to feel like he can infringe upon that right for anybody… is just wrong."

Mejía and Brevis are being represented by the Tulane First Amendment Law Clinic, which also provides legal aid to the Illuminator.
The complaint was filed Tuesday in the U.S. District Court for the Western District of Louisiana.
Brevis was in the middle of addressing members of the board and alleging past discriminatory practices when she was warned and eventually removed from the meeting.
"We know all we need to know," she said during the meeting. "We know a certain trio of parish council members have a clear type when selecting board of control members, and that type is a simple checklist: conservative, Christian, willing to toe the false narrative that there is a leftist takeover and that children are in danger, willing to segregate certain materials due solely to personal beliefs."
The library board was a lightning rod of controversy last year, with clashes between activists and the board, led by Judge. One activist was arrested at a meeting last year, and there was a lot of pushback to what some claimed was a book-banning effort.
The Tulane clinic, meanwhile, sent a letter to Judge in October, expressing concern with its latest meeting rules, which the clinic believed to limit freedom of expression.
13 Most Disrespectful Things You Can Say In Louisiana
Louisiana Parishes Ranked By Salaries
Starting from the lowest, here's how Louisiana Parishes stack up when you check the data for average salaries.