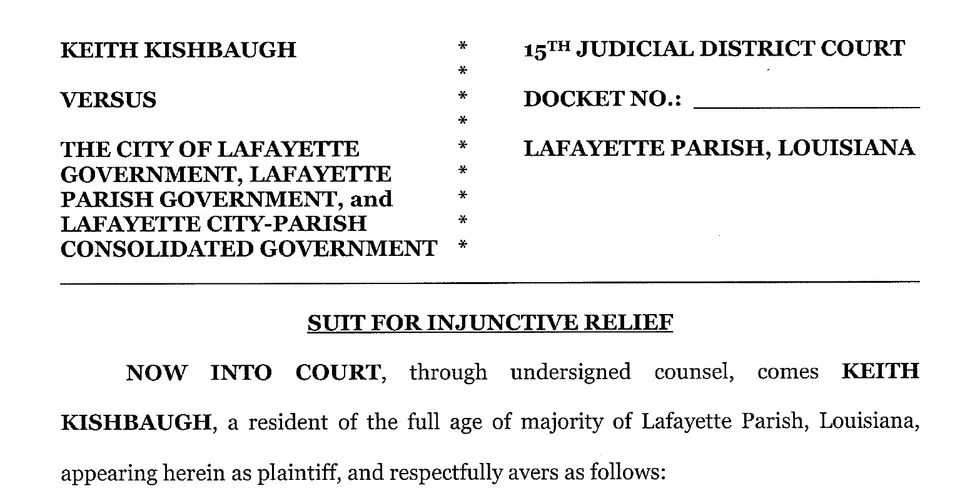 Hearing In Charter Lawsuit Against LCG Canceled, Trial Date Set
Facebook/Fix The Charter
UPDATE: The hearing scheduled for Thursday in 15th Judicial Court about the lawsuit over LCG charter amendments being made with an ordinance has been canceled. According to the Lafayette Parish Clerk of Court's Office, the court canceled the hearing, and has set a trial date of May 8th, with pre-trial motions from both sides of the suit due by April 29th.  Our news partners at KATC confirmed with the Secretary of State's Office that their office in intervening in the lawsuit to ask the court to address additional issues not raised by Keith Kishbaugh, the Lafayette resident who filed the lawsuit.
UPDATE: On today's edition of "The Ross Report," Attorney Lane Roy - the lawyer who is representing Keith Kishbaugh in his lawsuit against the new Home Rule Charter - broke the news that Attorney General Jeff Landry's Office will be representing the Secretary of State Kyle Ardoin. The Sec. of State's Office is intervening on the side of the plaintiff, Kishbaugh.
Roy says the AG's office is filing the motion this afternoon.
UPDATE: A preliminary hearing is set for the lawsuit filed by a Lafayette resident questioning the legality of Lafayette Consolidated Government amending its previously-amended charter with an ordinance.
The hearing will be Thursday, April 11, in the 15th Judicial Court at the Lafayette Parish Courthouse beginning at 10 a.m. Judge John D. Trahan will preside over the hearing.
Lafayette resident Keith Kishbaugh is listed as the plaintiff in legal filings against the new home rule charter. Kishbaugh has petitioned the court for an injunction on the issue. The defendants: The City of Lafayette government, Lafayette Parish Government and Lafayette City-Parish Consolidated Government.
We will have more on this story as it becomes available. Attorney Lane Roy will be on The Ross Report.