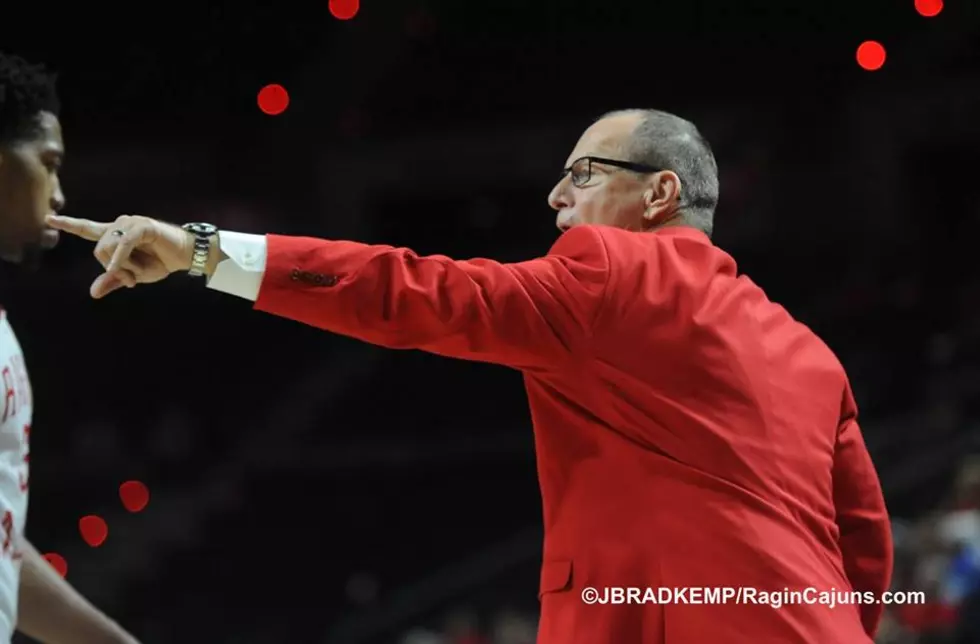 Marlin Wins 400th as Cajuns Open With 95-67 Win
Brad Kemp/RaginCajuns.com
The Louisiana Ragin' Cajuns pulled away in the second half, defeating Loyola-New Orleans 95-67, giving Cajuns' head coach Bob Marlin his 400th win as a Division I head coach.  A crowd of 3,504 was on hand for the season opener.
Junior transfer Jalen Johnson (Saint Louis University) led five Cajuns in double figures with 22 points.  Redshirt freshman Kobe Julian and junior college transfer Dou Gueye added 15 points each, while freshman Malik Wilson and junior Cedric Russell scored eleven points apiece.  Johnson and Gueye led the Cajuns in rebounding with nine each as the Cajuns (1-0) outrebounded the Wolf Pack by 19 in the second half en route to a 51-28 advantage on the boards.
"We were really sloppy at times tonight," Marlin said, "and turned it over too many times (22).  But we did a lot of good things, too.  I liked the way we played defense overall and we were really good on the boards in the second half."
Louisiana was playing without seniors Mason Aucoin (back) and P. J. Hardy (indefinite suspension), junior Tiras Smith (illness) and sophomore Durey Cadwell (out for the season with a knee injury.)  In addition, sophomore guard Trajan Wesley, who started and played 13 minutes, came out of the locker room in a walking boot and did not play in the second half.
Terry Smith, Jr. was the only player in double figures for the Wolf Pack, who had opened the season with three straight wins and were averaging 119 points per game.  The Cajuns held Loyola to 38 percent shooting, while making 53 percent from the field, including 60 percent in the second half.
All ten players who suited up for Louisiana made their way into the scoring column as freshmen Javonne Lowery and Chris Spenkuch combined for 13 points, while another freshman, Calvin Temple scored four points.  Sophomores Kristian Lafayette and Wesley chipped in two points apiece.  Wilson led the team in assists with four.
"We had six guys who played in their first D-I game tonight," Marlin said.  "We'll be a work in progress for a while and will have to be better this Saturday than we were tonight."  The Cajuns host McNeese State at the Cajundome this Saturday night at 7:00 pm.