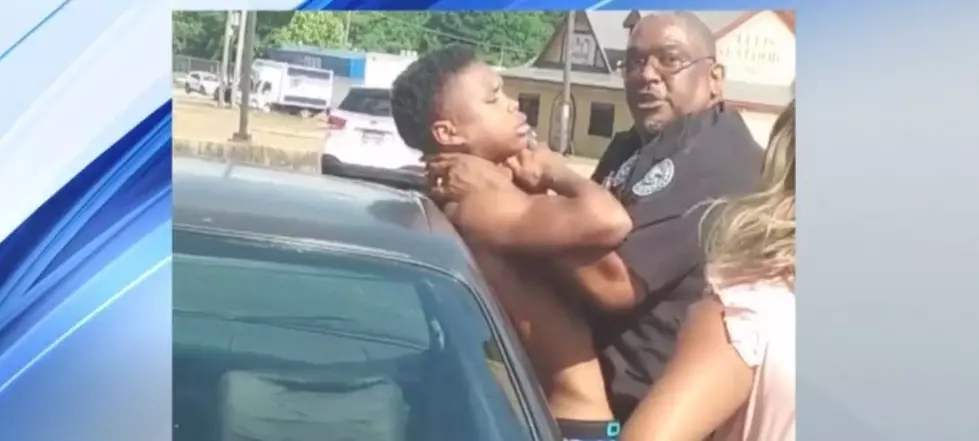 Mississippi Officer Placed on Administrative Leave After Confrontation Video Surfaces
WJTV
A Mississippi police officer has been placed on administrative leave after a video surfaced on social media of him and a man he was trying to detain in a physical confrontation.
In the video, you can clearly see the officer with his hands around the neck of a shirtless man as he's being pushed up against his car. A bystander pleads with the officer that the man can't breathe. The bystander then tries to loosen the officer's grip on the man.
"He's not breathing. He's not breathing," she says.
"Ma'am. You see my hands? I'm not even choking him," the officer replies as he presses the man against the car.
The incident took place this past Friday, May 22 around 4:30 pm in Jackson, Mississippi.
Jackson Police Chief James Davis says that internal affairs has launched an investigation into the matter.
Mayor Chokwe Antar Lumumba released the following statement:
After being made aware of a video that has surfaced of a Jackson police officer in confrontation with an individual, the officer involved has been placed under administrative leave pending the outcome of an internal affairs investigation. This administration is clear that we are trying to build an approach to public safety that is about trust, collaboration, and integrity. Any actions that do not reflect those principles have no place in the City of Jackson.
What You Need to Prepare Your Pup for a Road Trip