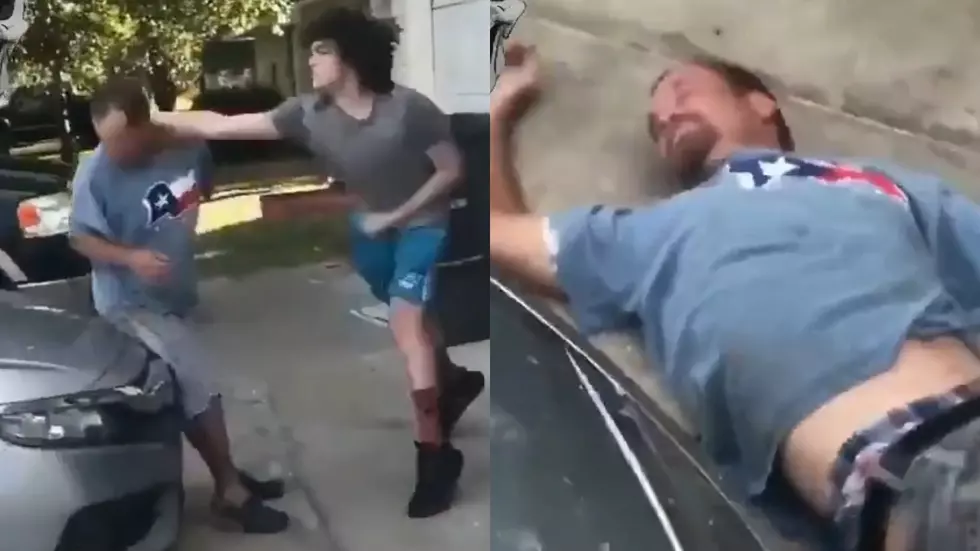 Stepson Knocks Stepfather Out Cold after He Used Derogatory Word in Front of Friends
Twitter via @viralhoodfights
A viral video shows the moment when a son lost his cool after his stepfather used a racial slur to describe the child's friends, who were standing just feet away from the conversation. The stepfather was knocked out cold after his stepson delivered a barrage of punches.
"You a f****** b****"
That is where the video picks up a conversation between an apparent stepfather and stepson. Context clues show that the father may have been reprimanding his stepson, but the language he used during the conversation is what prompted things to get violent.
The stepfather can be heard saying, "Stand over here with your little n****** friends". That is when you can hear the friends, who are videotaping the conversation, change their tones from laughing to being offended.
That is when the stepson clinches his fist and begins delivering blows into his stepdad's face.
An older man attempts to break things up, but one last punch from the child sends the man to the concrete - seemingly out cold.
Stepson Knocks Stepfather Out Cold after He Used Racial Slur
See the full video from @viralhoodfights on Twitter below.
All in all, it's a sad thing to witness for everyone involved.
For the young kid, he felt the need to step up and defend his friends from his own stepfather's offensive language. Clearly, his friends appreciated the gesture in their reaction to the moment.
The word used by the older man is utterly unacceptable. The sad truth is that a lot of young people are having to educate older folks on what is and what isn't appropriate to say. Things that older people may have said in casual conversation decades ago may no longer be socially acceptable today.
While I can't condone the violence displayed here, I think that the stepfather now understands his stepson's feelings about that word being used. Especially if it is used in a derogatory sense toward his friends.
SWEET: Here are the most popular Halloween candies