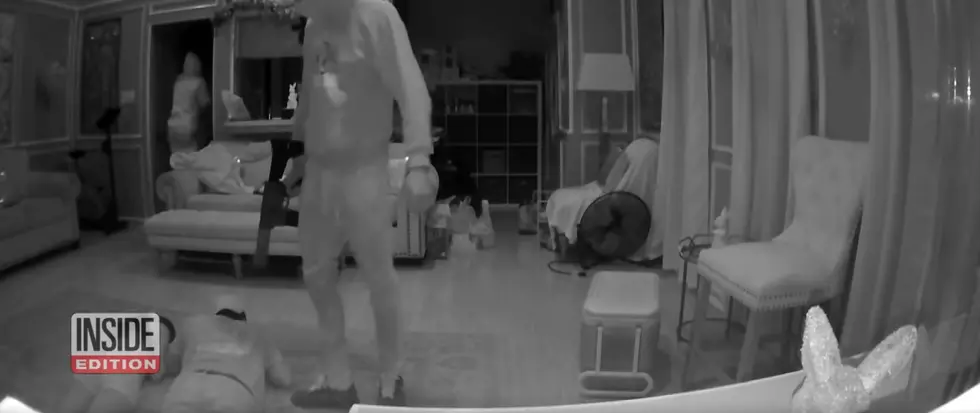 Parents Watch Home Invasion on Doorbell Cam as Kids Held at Gunpoint [Video]
YouTube Via Inside Edition
Parents away on a night out watch in horror on their home's doorbell camera as armed intruders order their kids to the floor at gun point.

Parents Watch Armed Home Invasion On Doorbell Cam
Pasadena, Texas parents were enjoying a night out when suddenly the unthinkable happened.
Their teenage daughter and two of her friends were suddenly forced face down by two armed intruders as the parents watched in horror on their Ring doorbell camera...helpless.
One of the masked intruders begins waiving his gun around over the teenager's heads as one of victims is grabbed by her hair and forced at gunpoint into another room.
It's at that moment the parents began doing the only thing they could at the time.
From mirror.co.uk -
"In the footage the dad tries to deter the invaders by shouting 'Hey, who's in my house?' through the camera's microphone.
'I got you on camera!' the dad continues to yell, before the mother adds: 'The cops are on the way.'"
It seemed to have worked because at that point, the two intruders left the scene with a few items stolen from the home.
Pasadena Police speculate the armed intruders are known by at least one of the victims.
The homeowners thinks one of the victims might actually be in on it and was working with the two intruders.
Read more at mirror.co.uk.
KEEP READING: Here are the most popular baby names in every state
Using March 2019 data from the
Social Security Administration
,
Stacker
compiled a list of the most popular names in each of the 50 states and Washington D.C., according to their 2018 SSA rankings. The top five boy names and top five girl names are listed for each state, as well as the number of babies born in 2018 with that name. Historically common names like Michael only made the top five in three states, while the less common name Harper ranks in the top five for 22 states.
Curious what names are trending in your home state? Keep reading to see if your name made the top five -- or to find inspiration for naming your baby.