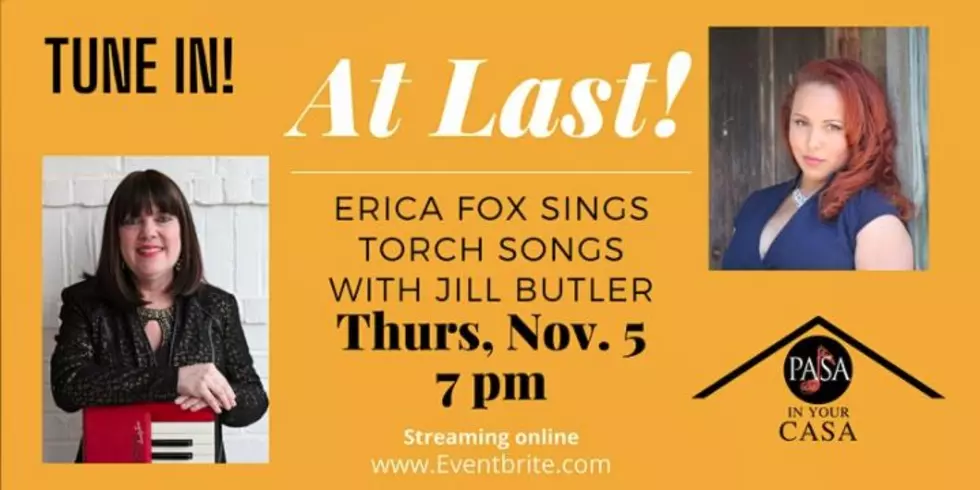 'PASA in Your Casa' Online Musical Event Set for Tonight
Submitted Photo
Slowly but surely those of us who enjoy live music are making our way through the maze that is the coronavirus pandemic and we're getting close and closer to bands on a stage and music for the dance floor. We're not there yet but still many of us have that craving for the musical stylings of our favorite composers, singers, and musicians.
PASA, Performing Arts Serving Acadiana, hopes to scratch a little of the live music itch tonight with a performance entitled "At Last" why yes that is an homage to the Etta James classic. The musical event will feature vocalist Erica Fox, pianist and vocalist Jill Butler, and percussionist Herb "Pucci" Green.
The performance will pay tribute to some of the greatest torch songs ever recorded interpreted through the talent of tonight's performers. The show is online and it is available free, but you'll need to register through Eventbrite. If you'd like to make a donation, it would certainly be appreciated and there will be a virtual tip jar if you'd like to show your appreciation to the performers.
To really bring home the vibe of the Pasa in Your Casa tonight's musical event is being broadcast live from the living room of PASA Director Jaqueline Lyle. The new series, of which this is the first performance, is an offshoot of the successful Comfy Couch Concert Series recently concluded by PASA.
Tonight's performance will begin at 7 pm and audience members may ask questions of the performers via an online chat feature available during tonight's live broadcast. The performance is free through this link with registration and again donations and tips will be appreciated.
11 Best Characters From 'The Office'