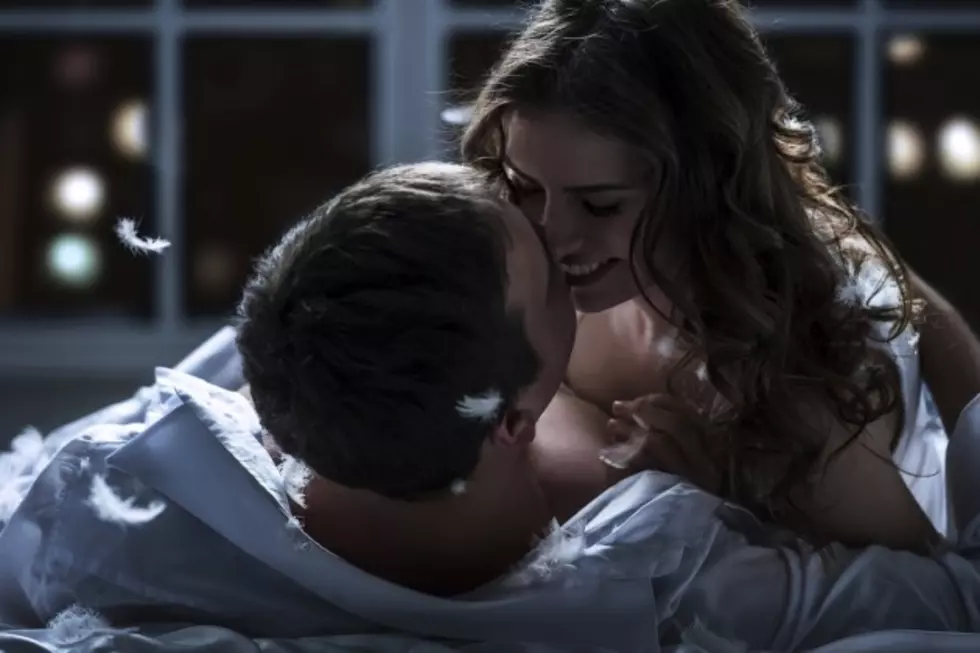 The 10 Sexiest Country Songs
iStock
Sexy country songs vary in style, content and tempo, but they all have one thing in common: they inspire a certain, well ... mood. It's hard to put a finger on what exactly makes a song sexy, but country stars know how to find it.
Whether the story is a pursuit of a woman at the bar or a night out (or in) for a married couple, these artists can deliver the sensual tone and dash of confidence every sexy song needs with the best of 'em. Though there are a lot to choose from, we've narrowed it down to the 10 sexiest country songs below.
10

"I May Hate Myself in the Morning"

Lee Ann Womack

Sometimes we do things we know aren't good for us in the long run, but feel right at the time. Lee Ann Womack sings about this feeling in "I May Hate Myself in the Morning," in which she muses about calling her ex up after a few drinks and getting more involved than she knows she should. "I may hate myself in the morning, but I'm gonna love you tonight," she croons in the seductive ballad. The song was released as the first single off her 2004 album There's More Where That Came From and became a Top 10 hit for the artist, even winning her a CMA award for Single of the Year.

9

Oftentimes, the romance is all in the preparation. Lighting candles, setting the mood — Rascal Flatts know what it takes to get everything just right. "I Melt" is a sensual, but sweet song about just that. "I melt every time you look at me that way," Gary LeVox sings, in turn melting the hearts of females everywhere. The song was the third single from the trio's 2003 album Melt and reached No. 2 on the Billboard country charts.

8

"Let Me Touch You for a While"

Alison Krauss

Alison Krauss is sweet and unassuming, but she has an air about her that can easily draw a man in. "Let Me Touch You for a While" explores her slightly more seductive side as she pursues a man from afar. The song's verses have an ominous tone, as Krauss tells the story of a man with a broken heart, but it breaks into a lighter chorus suggesting "a way to make him smile." The song is a somewhat unusual juxtaposition of tones and lyrical content, but Krauss makes it work and turns it into a sexy bluegrass tune worthy of being among our 10 sexiest country songs. The album, New Favorite, made a splash in 2002 and won a Grammy for Best Bluegrass Album.

7

"Let's Make Love"

Faith Hill and Tim McGraw

A sexy ballad gets an extra dose of chemistry when the artists singing it are together in real life. That's what takes "Let's Make Love" to the next level. Both Tim McGraw and Faith Hill sing the duet with passion and romance in their voices, giving the song an authenticity and depth most other romantic tunes just can't touch. The song won a Grammy for Best Country Collaboration with Vocals and reached No. 6 on the Billboard Hot Country charts. It was featured on Hill's album, Breathe, as the third single, as well as on McGraw's first greatest hits record.

6

"Must Be Doin' Somethin' Right"

Billy Currington

"Must Be Doin' Somethin' Right" is proof that you don't have to be an expert on women to impress a lady. The seductive, beachy ballad talks about the complicated navigation of loving a woman, how it can change from day to day or moment to moment, but Billy Currington figures he must be doing something right by the way she reacts, and that's good enough for him. The song reached No. 1 on the Billboard country charts and definitely solidified Currington's official status as a country hottie.

5

"Alone With You"

Jake Owen

There's something about those things you shouldn't do that makes you want to do them all the more. Jake Owen knows what it's like, as he explains in "Alone With You," a sexy but bittersweet tune about a girl he knows he shouldn't be with but he keeps coming back to. "Your body's like a pill I shouldn't take," he laments about his hazardous hookup partner, but that doesn't stop him from giving in to her seduction. Many female fans would say Owen is plenty sexy in his own right, and the combination of his dreamy demeanor and the song's suggestive lyrics is enough to earn this song a prominent spot on our Sexiest Country Songs list. "Alone With You" was a No. 1 hit for Owen in 2012 and was the second single off his third studio album, Barefoot Blue Jean Night.

4

"Gettin' You Home"

Chris Young

Just because someone is in a longterm monogamous relationship doesn't mean the spark is gone. Chris Young sings about a night out with his lady in "Gettin' You Home," a sexy song with a hint of sweetness, given the featured couple's relationship status. The anticipation of a night out together, getting dressed up and checking out a new restaurant is fun and everything, but Young can't wait to get back home — if you know what he means. The lighthearted mid-tempo ballad was nominated for a Grammy and hit No. 1 on the Billboard country charts.

3

Faith Hill's "Breathe" is a subtle kind of sexy, but the romantic imagery in the lyrics is unmistakably sensual. Hill delivers the song with a sense of elegance and passion, making the ballad believable and honest. Her vocals shine, as even non-country fans noticed, leaving "Breathe" as one of the artist's biggest crossover hits to date. The song reached No. 1 on the country charts, but also No. 2 on the Billboard Hot 100, which is no small feat for any artist, let alone country. This song in particular solidified Hill as not only the queen of country, but pop royalty, as well.

2

"Wrecking Ball"

Eric Church

We don't have to say a lot about this hit from Eric Church's The Outsiders album for you to know why it made our 10 Sexiest Country Songs list ... just listen. Just the first note of this song would make a nun sweat.

1

"Come a Little Closer"

Dierks Bentley

This sweet but seductive ballad sung by country heartthrob Dierks Bentley is a tribute to the simple beauty of two people being with one another, regardless of the past between them. It would be hard to resist the sweet nothings of this tune as Bentley gently coerces his partner to "Come a Little Closer" and let go of the things standing in the way. The song was co-written by the artist and featured on his second studio album, Modern Day Drifter. It hit No. 1 on the Billboard country charts and helped ensure Bentley was no victim of the 'sophomore slump.' Its unashamedly sexy lyrics — not to mention the video — earns "Come a Little Closer" the No. 1 spot on our Top 10.