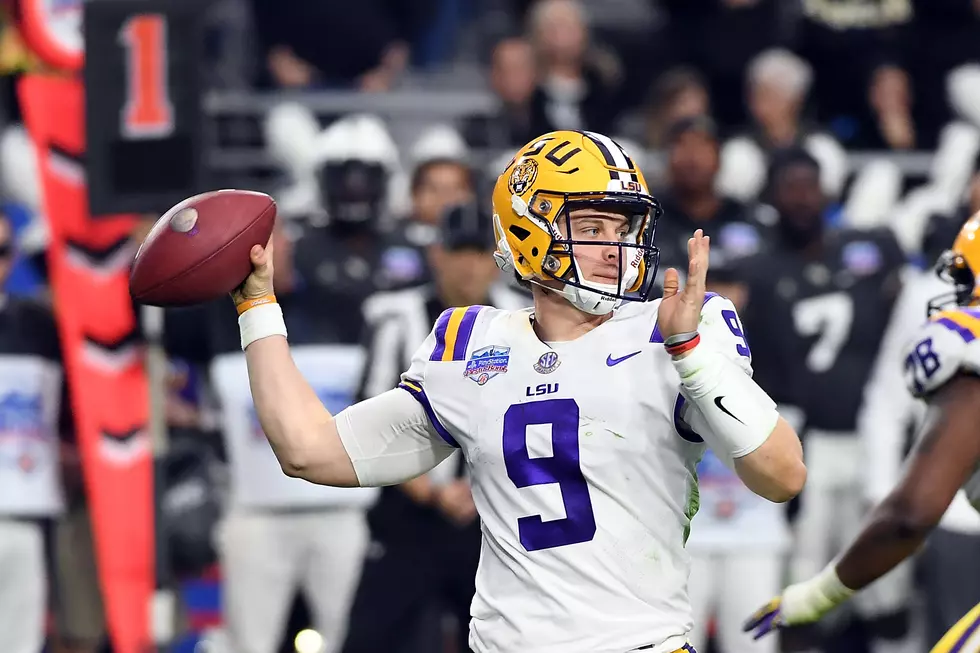 Vegas Oddsmakers List LSU's Burrow As Legit Heisman Candidate
Norm Hall/Getty Images
College football's Heisman Trophy, it used to stand as an enduring symbol of the best college football player in the land. Today it serves more as fodder for SportsTalk Radio hosts to argue about and a three-month-long commercial for Nissan. But still for a college football player to have his or her name mentioned in association with the Heisman Trophy is quite a high honor.
LSU quarterback Joe Burrow can now count his name as one being mentioned along with the Heisman Trophy this year. The way Burrow has played, you can't ignore the fact that he's had a really great start to the 2019/2020 campaign.
Burrow has put up 749 yards of offense that has resulted in nine touchdowns in just two games. And when you consider the fact that Burrow and the Tigers laid a pretty good whuppin' on a nationally ranked University of Texas team this past Saturday night it's easy to see why the college football world is paying attention.
Now we all know in the world of sports it's not really real until Las Vegas gets involved. The oddsmakers in Vegas have done just that. Burrows odds of winning the Heisman Trophy have dropped from 200-1 at the beginning of the season to just 5-1 as of a few days ago.
In the eyes of money men in Vegas Alabama quarterback Tua Tagovailoa is the favorite to win the Heisman this year. They have him listed at 3-1 but Burrow, Clemson quarterback Trevor Lawrence and Oklahoma's Jalen Hurts are the next in line at 5-1.
Should Burrow continue to have a magical season for LSU and actually win the Heisman he would be the second Tiger to have done so. The only other LSU Heisman winner was the legendary Billy Cannon who won the award back when it actually meant something back in 1959.