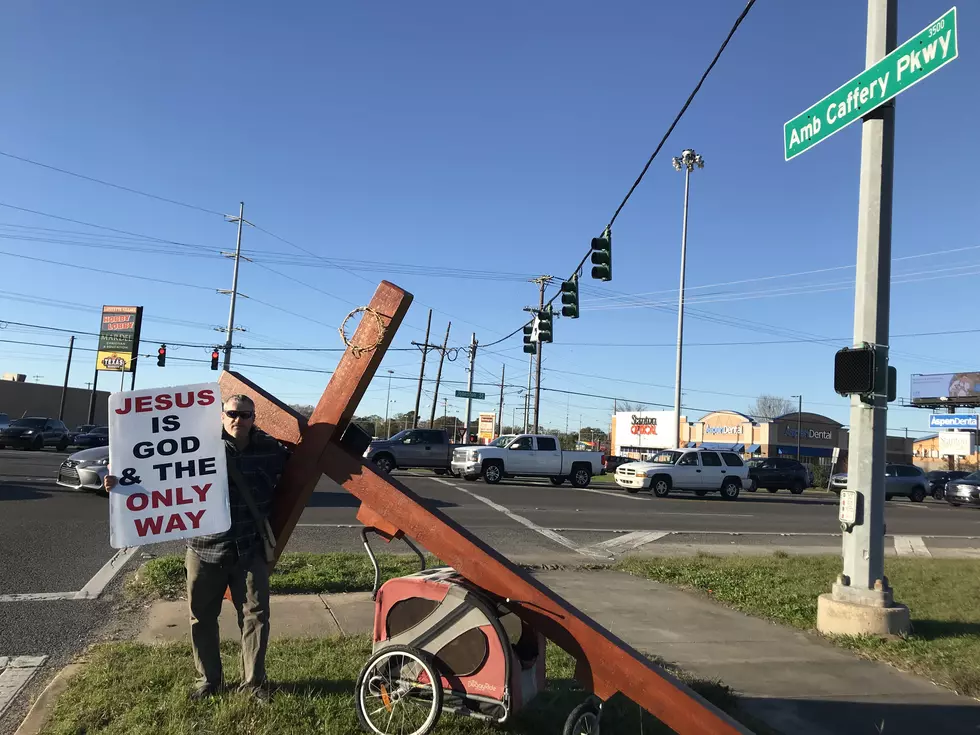 Who's the Guy with the Cross on Ambassador at Johnston?
Townsquare Photo by John Falcon
Have you seen him yet? The guy with the huge cross at the corner of Johnston and Ambassador Caffery?
I did. I mean, how can you miss that big cross? You can't, as it sticks out.
Actually, that cross REALLY sticks out: it's 12 feet tall. It breaks down for easier travel (the largest piece is 10 feet long, which fits perfectly into his van) but, when he's wheeling it across the parking lot to the sidewalk and, eventually, to the curb on the corner, it looks really big.
Dwayne keeps the cross affixed to a converted pet stroller to allow for easier transit from his van to the curb. That's his name: Dwayne. He's a self-proclaimed street preacher. Not one of the fire-and-brimstone in-your-face-repent-or-you-are-going-to-burn-type of a street preacher, but a "Hey, how are you?"-type of street preacher.
I parked next to Dwayne's 1966 Ford Econoline van and walked over to the curb on which he chose to park his cross. As I was approaching, Dwayne was playing a pan flute. I could barely hear it over the traffic and wind, and it had quite the soothing sound. I was sorry that he put it away as I approached.
I introduced myself and was certain to let him know that I worked for a radio station which, sometimes, I wish I wouldn't reveal (I'm not certain if the fact that I work for a radio station will cause any apprehension). I often wonder if knowing my occupation would influence someone's behavior, but, after speaking with Dwayne for a few minutes, I felt that he was being genuine. As I drove away from our visit over an hour later, I am almost certain that he was being genuine, and would have been genuine regardless of my occupation.
Dwayne told me his story. He jumped around a bit, but I got the gist of what put him on the corner of the busiest streets in Lafayette, Louisiana.
When Dwayne was quite young (around 5, if memory serves me correctly) he was involved in a car crash. One of his brothers was killed as a result of the crash (an event that had a profound impact on Dwayne's life). His parents were under the influence at the time of the crash, which lead to the children being taken from the home. Dwayne and his brother were placed into the home of their aunt and uncle who, eventually, adopted them.
Being strong Christians, his aunt and uncle had them in church every chance they could, and Dwayne soon began to feel some resentment. He carried that resentment into his teen-aged years and, eventually, quit going to church.
Fast-forward a few years (what Dwayne described as a few years of "normal" teen-ager sin) and it happened: he saw the Light. He was struck by the Holy Spirit.
Dwayne told me that he remembers laying in bed in his home just outside of Chicago one October night in 1989 when it happened. No one had been preaching to him. Nothing happened that "scared him straight". He was just laying there when he felt, as he says, the presence of God.
Something told him to find a Bible (he wasn't hearing voices, he said; it was just a feeling he got that made him seek out the Good Book) and he began to read. Beginning to end. Not only did he read the Bible, but he began to live his life by the Bible.
While working a full-time job (from being a snack company employee to putting himself through EMT school and eventually jobs as a first responder), he began to preach on the streets. As I said above, Dwayne isn't an in-your-face-type of street preacher; he's actually quite on the flip side of that coin: Dwayne is very respectful of one's personal space, and will speak with you as long as you are willing.
Dwayne has been traveling across the country preaching to anyone willing to listen. From Chicago to Arizona, Louisiana to Myrtle Beach, even up to New Hampshire. He enjoys areas that are fluid: boardwalks, intersections, etc. That way, if someone is interested in what he is saying, they can choose to stop and listen. If they aren't interested, they can continue on their way.
He's been seen on the cover of Decision Magazine, Billy Graham's monthly (touting itself as "The Evangelical Voice for Today") twice. He had a pic of one of the covers on his phone, which he was proud to show. It was a pic taken during Billy Graham's "Decision America Bus Tour" when it stopped in Sacramento and was met with a group of LGBT activists. You can see the photo here. That's the same cross Dwayne has parked at the corner of Ambassador and Johnston.
I've never stopped to chat with a street preacher. I've "encountered" them a few times (on Bourbon Street, on a train in Chicago, at Festival International), but Dwayne wasn't like the others: he was truly respectful of everyone's personal space. He isn't interested in shouting down passers-by: he is interested in speaking with them. Does he shout? Yes, but he's not yelling at anyone, he's just spouting his message loud enough for people to hear. If they want to stop and listen, they are welcome. If they want to move along with their day, they are also welcome to do that.
If you are going to try to share a message, be like Dwayne: respectful, polite, well-versed, and non-argumentative.
I did ask Dwayne how he affords to live this way (living in his van, traveling from town-to-town), and his answer was simple: "I live by faith".
By the way, Dwayne is trying to sell his van. It's a really cool, retro-looking 1966 Ford Econoline. He's asking $10,000, or trade for a sprinter van (he needs something big enough for that cross).
If you'd like to hang out with Dwayne (he was VERY interesting to speak with), he'll be in town for the next few days. You'll probably be able to catch up with him at Lafayette's busiest intersection.