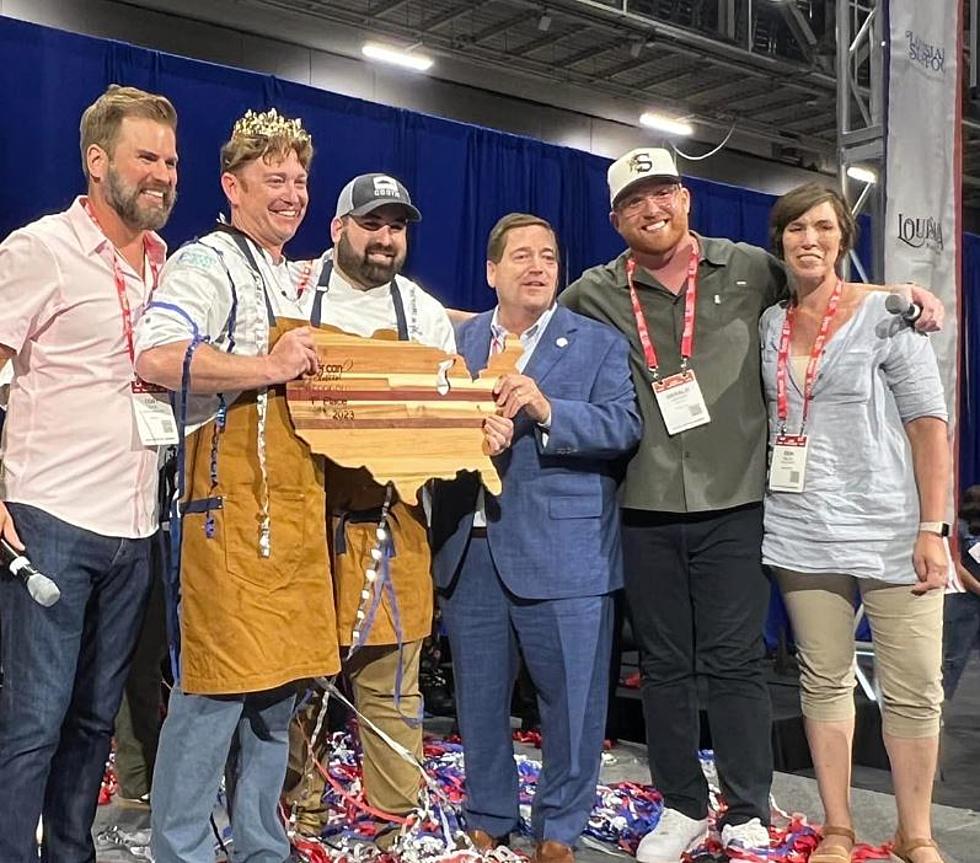 Alabama Chef Claims Title 'King of Seafood' in New Orleans
Louisiana Seafood Promotion and Marketing Board via Facebook
The world of seafood has a new king and that king was crowned on Saturday in New Orleans, Louisiana at the 2023 Great American Seafood Cook-Off. The Great American Seafood Cook-Off is the culmination of several state-hosted seafood cook-offs leading up to the event.
This year's Louisiana Seafood Cook-Off was held in Lake Charles. It had been held in Lafayette, Louisiana the previous five years but was transitioned to the Golden Nugget Casino for this year's edition. Some of you might recall, no chefs from the Acadiana area were invited to participate so, maybe we didn't really send our best of the best.
No, I am not besmirching the culinary talents of Chef Owen Hohl. Chef Hohl was this year's winner for the Louisiana Seafood Cook-Off and he is the culinary brain trust behind the amazing dishes at Hot Tails of New Roads and Prairieville. But leaving Acadiana chefs out of a seafood competition is like trying to play football at Florida State and not paying your players. It just isn't the way things are done.
But if there is a silver lining in the world of Seafood Cook-Offs it would be the winner of this year's Great American Seafood Cook-Off at least came from the Gulf South. And it came from a place and a restaurant that is frequented by Louisiana guests a lot during their trips to LA, Lower Alabama.
Chef Brody Olive of Voyagers at Perdido Beach, Alabama earned top honors for his presentation of Gafftop catfish with flash-fried mole crabs, gulf shrimp horseradish cream, pickled purslane, and smoked paprika coral tuile. In case you're wondering "Is catfish really seafood"? The answer is yes, the Gafftop catfish is a saltwater catfish. And a "tuile" is a wafer-thin cookie-like creation. That can be molded into different shapes.
This video isn't from Chef Olive but it does explain about the Gafftop Catfish, in case you were wondering.
The runner-up in the Great American Seafood Cook-Off was Chef Nathan Bentley from Anchorage Alaska, he came in second. Christian Gill from Cincinnati Ohio earned the third-place prize. Chef Bentley prepared a dish with Alaskan King Crab. Chef Gill created a dish with razor clams and a Red Shrimp ceviche.
The event is presented by the Louisiana Seafood Promotion and Marketing Board, The Louisiana Restaurant Association, and Explore Louisiana.com.
10 Best Cajun/Creole Seasonings
There are lots of amazing Cajun and/or Creole seasonings around Acadiana. However, we asked you, and here are the top selections.