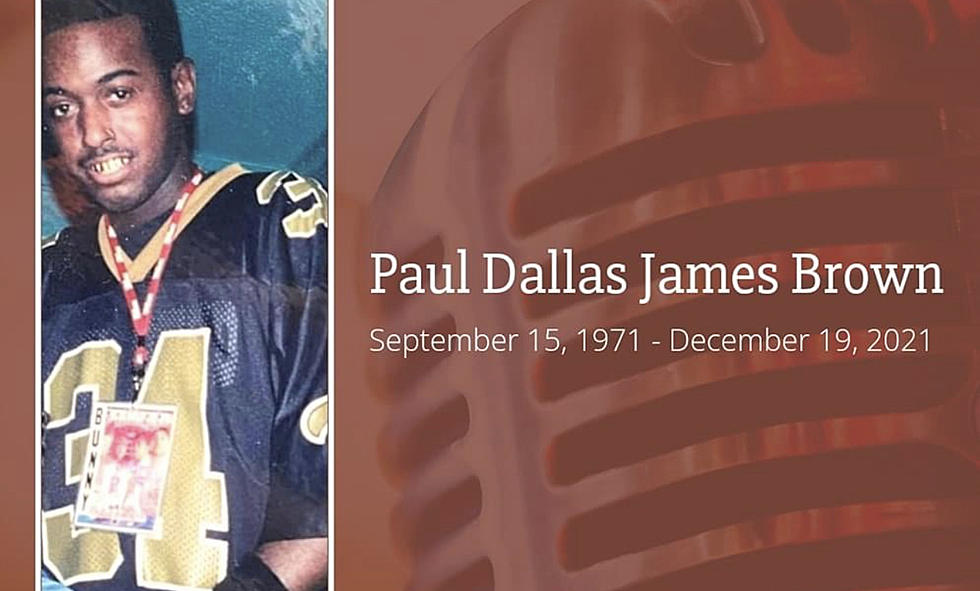 Fans of Bunny B Shocked, Confused by Eyebrow-Raising Entry in Late Rapper's Obituary
Kinchen Funeral Home
Even in the afterlife, rapper Bunny B of Da Entourage is still making headlines.
Earlier this week, we passed along the sad news that Paul Brown, aka Bunny B, passed away after battling a long-term kidney illness. The news sent a shockwave throughout the local community and spurred an outpouring of condolences from fans of Bunny B and everyone who loved his legendary hit line dance song, "Bunny Hop."
While there were tributes from fellow artists like Cupid, Partners-N-Crime, Mr. Phat, and numerous DJs from the area—there is one tribute that is raising eyebrows across social media.
Brown's obituary was posted on Facebook, and while the majority of it contained your standard in memoriam info, some people questioned one part in particular.
Right after mentioning the "Bunny Hop" as Bunny B's biggest music accomplishment along with the names of his group members in Da Entourage, the obituary went on to talk about the things he loved most. Whoever was responsible for the entry (which seems to be his step father John Broussard) wrote that Brown was a "fun loving person who loved to borrow money from everyone and not pay back anyone including me his step dad John Broussard."
As if that wasn't shocking enough, the entry goes on to say "I guess I'll never get paid now."
As you could imagine, this sparked an immediate reaction from fans of Bunny B and casual social media users alike after it was posted by numerous people, including this viral post from Facebook user Winslow Aristotle Linden that has been shared nearly 1,000 times at the time of this post.
What people read was so unbelievable, they had to go to the Kinchen Funeral Home website to confirm this was actually real and not photoshopped. Upon visiting the official link, they realized it was indeed true.
While some were shocked and upset, others were simply confused as to why someone would say that in the wake of someone passing away—to a loved one, no less.
Others suggested that maybe this was the way that Brown and Broussard may have joked around and this was just part of some unique sense of humor they shared.
Then there were those who uttered the importance of having a professional put together your obituary or simply writing it yourself.
Either way, Bunny B continues to make a big splash even after his untimely death. Regardless of the context of his obituary, we appreciate his contributions while here on earth and wish his family nothing but peace during this difficult time—especially during the holiday season.
LOOK: The Most Famous Actor Born Every Year