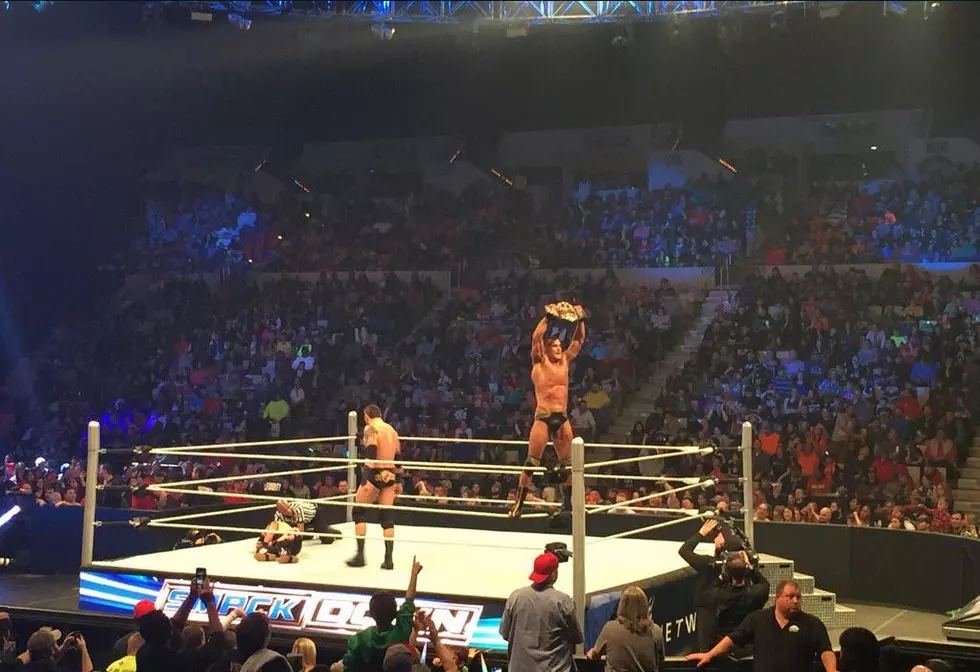 In The Au-Zone: The 5 Worst Wrestling-Related Songs Of All-Time
Courtesy: Ian Auzenne/The Auzenne Archive
Unfortunately, not all of wrestling's musical ventures have been successful.  In honor of WWE Smackdown coming to the Cajundome on September 11, here's a look at the five worst bits of wrestling-related music ever laid on tape.
5)  "Be a Man," Randy Savage
I must confess: "Macho Man" Randy Savage was my favorite wrestler growing up, so it pains me to include him on this list.  Savage released a full-length rap album back in 2003.  The title cut, a Hulk Hogan diss track, gained the most attention.  With lines like, "Hot diggity damn," and "Don't make me laugh cuz your movies and acting skills are both trash," it's sounds like an old school "Macho Man" promo put into verse.  Unfortunately, it's hard to take a man who made money by snapping into Slim Jims seriously as a rapper.
4) "American Males," Jimmy Hart/J. J. Maguire
This is the only entrance theme to make the list. From 1995 to 1997, Marcus Alexander Bagwell and Scotty Riggs walked down the WCW aisle to this song, winning the World Tag Team Championship once during their run as a team.  Their gimmick was that of two all-American pretty boys who clapped above their heads whilst walking to the ring.
Most of the song consists of background singers repeating the team's name.  The rest of the song includes cheesy lyrics, like "When you see them comin'/Better run for cover/Girls you don't need a weekend lover."  That line is highly ironic, considering Bagwell is now a gigolo.
Bagwell would later turn on Riggs and join the New World Order, dubbing himself "Buff Bagwell."  Riggs later parodied the American Males gimmick in Extreme Championship Wrestling, calling himself the "U. S. Male."
3) "R-A-S-S-L-I-N," Glen Goza
The YouTube description line for this song reads, "This... this is not good."  That description is spot on.
Glen Goza was a Dallas-area country musician who wrote and recorded novelty songs.  He was best known to World Class Championship Wrestling fans as the guy who performed songs about, well, rasslin'.  Among his squared-circle compositions are a tribute song for David Von Erich and this song.  He performed "R-A-S-S-L-I-N" at multiple WCCW cards, including at the 1985 Cotton Bowl Extravaganza, which is where this particular rendition was recorded. Goza and the song recently received a new audience thanks to the 6:05 Superpodcast, which has made the song and Goza a recurring part of their show.  I'm sure Goza, who died in 2000, is smiling down somewhere knowing that "R-A-S-S-L-I-N" is being discovered by a new generation.
2)  "The WrestleRock Rumble," American Wrestling Association
Let's take the WABAC Machine to April 1986. The Chicago Bears won the Super Bowl just three months prior and became pop culture icons thanks to their "Super Bowl Shuffle" record and music video.  Verne Gagne is looking for a gimmick to help promote his upcoming "WrestleRock '86" show at the Metrodome.  So what does he do?  He has his wrestlers perform their own rap song, "The WrestleRock Rumble."
If this video has any redeeming qualities, it's that we get to see Shawn Michaels, Marty Jannetty, Scott Hall, and Curt Hennig before they became some of the industry's biggest stars.
1)  "I Wanna Be a Hulkamaniac," Hulk Hogan and the Wrestling Boot Band
Warning: Listening to this track might cause your ears to bleed, your dogs to howl incessantly, and your significant other to dump you.
Jimmy Hart was the mastermind of some of pro wrestling's most enduring entrance themes.  By 1994, both Hart and Hulk Hogan had abandoned the World Wrestling Federation for World Championship Wrestling.  Around that time, Hogan enlisted Hart's services to record an album.  Hart knows a thing or two about hit songs.  He reached the Billboard Top 10 in 1965 as a member of the Gentrys with the song "Keep on Dancing."
Despite his musical chops, Hart couldn't save this project from being an utter disaster. The highlight of the album was "American Made," which served as Hogan's theme music WCW before and after his run in the New World Order.  The album's nadir is "I Wanna Be a Hulkamaniac."  There are no words that can appropriately describe how truly awful this song is.  From the sample of Owen Hart's first WWF entrance theme to Hogan's rapping to the saccharine chorus, this song is truly the pits.