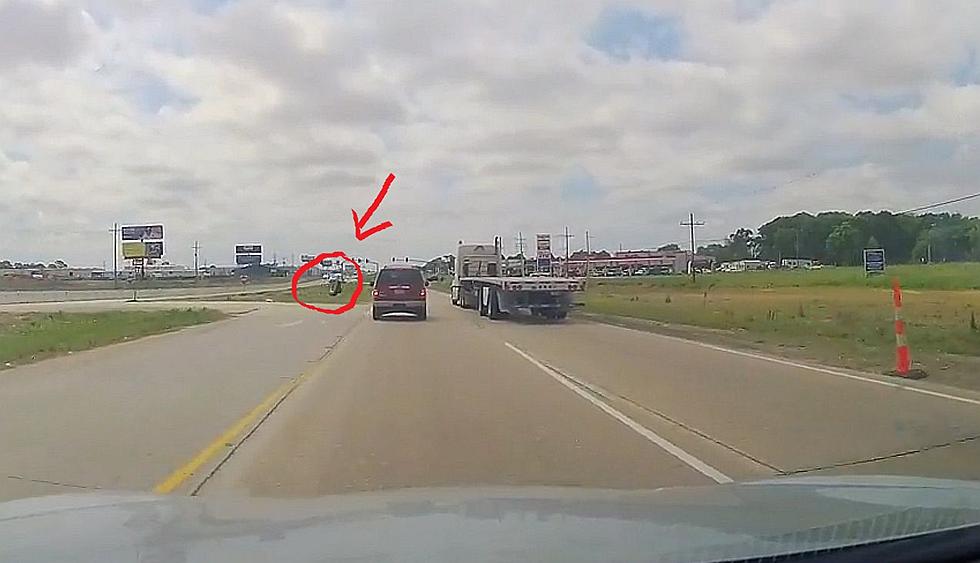 Insane Video From Highway 90 Shows Tire Flying Off Dump Truck and Slamming Into 18-Wheeler
Reddit Via u/JA0798
If you were traveling Highway 90 today (03/22/23) at noon you may have seen the scary moment a tire came off of a dump truck, flew into oncoming traffic, and slammed into an 18-wheeler.
Reddit user u/JA0798 was at the right place at the place right time for his dashcam to catch something on video that no one could have ever seen coming.
Unfortunately, the driver of the 18-wheeler was at the wrong place at the wrong time.
As you'll see in the video, u/JA0798 was traveling eastbound on Hwy 90 Tuesday (03/22/23) headed toward Coteau.
As he was about to approach Hwy 90 at Young Street something happened that he couldn't have ever anticipated.
In the blink of an eye, a tire appears to somehow come loose from a red dump truck traveling westbound toward Lafayette.
It's not clear exactly where the dump truck's tire came from, but it doesn't seem to impede the vehicle much.
However, the tire does impede the 18-wheeler.
Thankfully, Reddit user u/JA0798, the vehicle in front of him, and the driver of the 18-wheeler were paying attention, minimizing the chaos.
If that tire had hit the red SUV instead of the 18-wheeler, the results could have been fatal.
According to jimadler.com "the National Transportation Safety Board found that each year, there are roughly 33,000 tire-related passenger vehicle crashes. These crashes result in around 19,000 injuries."
If anyone happened to be driving this semi that got hit by a rogue tire on Hwy. 90 today, here's the footage.
by u/JA0798 in Acadiana
LOOK: Oldest Disneyland Rides From 1955 to Today
Stacker
, set out to compile a definitive list of every Disneyland attraction you can enjoy today and ranked them by their age. Using real-time data from
Touring Plans
, Disney archives, and historical news releases and reviews, our list starts with exciting recent park additions and stretches back to the oldest opening-day classics. This list focuses on the original Disneyland Park, so you will not see any rides from its neighboring California Adventure located just across the promenade. Read on to discover the oldest Disneyland rides you can still ride today.