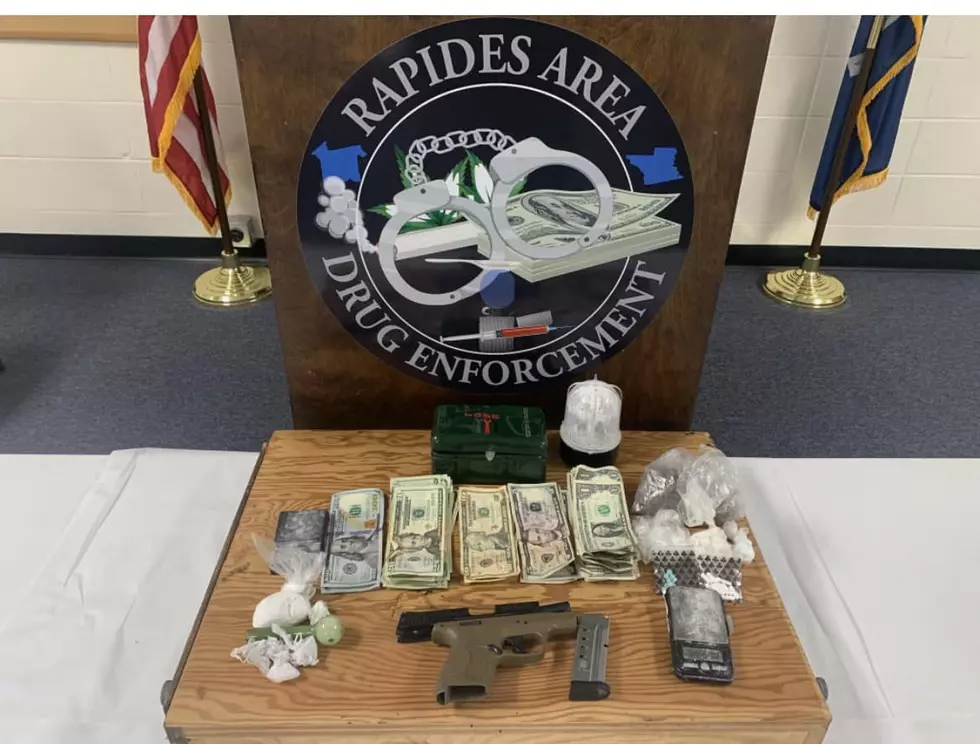 Police Bust Man Selling Fentanyl and Meth Out of His Pineville, Louisiana Home
Credit: Rapides Parish Sheriff's Office
PINEVILLE, La. (KPEL News) - A Rapides Parish man has learned that selling meth and fentanyl out of his home is not a great idea.
John David Dorsey, 36, of Pineville, Louisiana, has been arrested after Rapides Area Drug Enforcement (RADE) agents investigated multiple complaints about his illicit activities, and determined that he was committing multiple crimes out of his residence on Radio Road in Pineville.
According to the Rapides Parish Sheriff's Office, the RADE officers were watching Dorsey and his residence for signs that he was indeed selling drugs out of there. At one point, Dorsey left the residence in a vehicle, and a traffic stop revealed drugs in his possession. Feeling they had enough information to go on, they obtained a warrant to search the home.
During the search, they found "an additional 11 grams of suspected Fentanyl, 1.1 ounces of suspected methamphetamine, 1.1 ounces of marijuana, 36 grams of a pill/powder mixture suspected to be pressed Fentanyl pills and powder, 12 suspected pressed Fentanyl pills, 13 suspected Xanax bars and a firearm with an obliterated serial number was located," according to the RPSO.
Read more of our coverage of the fentanyl crisis HERE
Dorsey was arrested on a long list of charges:
Possession of CDS I (Marijuana) with intent to Distribute
Two counts possession of counterfeit CDS II with intent to distribute
Possession of CDS IV with intent to distribute
Illegal carrying firearm with drugs
Convicted felon in possession of firearm
Possession of firearm with an obliterated serial number
Possession drug paraphernalia
"Dorsey was transported to the Rapides Parish Detention Center where he was booked on numerous narcotics charges," RPSO said. Dorsey was booked into the Rapides Parish Detention Center, where he remains at this time on an $80,500 bond.
Fighting Fentanyl: Important Arrests Made Across Acadiana in 2022
The fight against fentanyl is a daunting one as the highly potent drug continues to take lives every day across the country. From Lafayette to the surrounding areas, law enforcement agencies have their hands full as they fight to get fentanyl off their respective streets.
Let's take a look back at headline-catching cases involving fentanyl in 2022.
List of Homicides and Deaths in Acadiana for 2023
Whether you pay attention to the news each day or just sporadically check in every once in a while, I think you will agree that we are often reading about homicides and deaths around Acadiana. 2023 seems to be showing that Acadiana will have a busy year when it comes to homicides, fatal crashes, and pedestrian deaths.