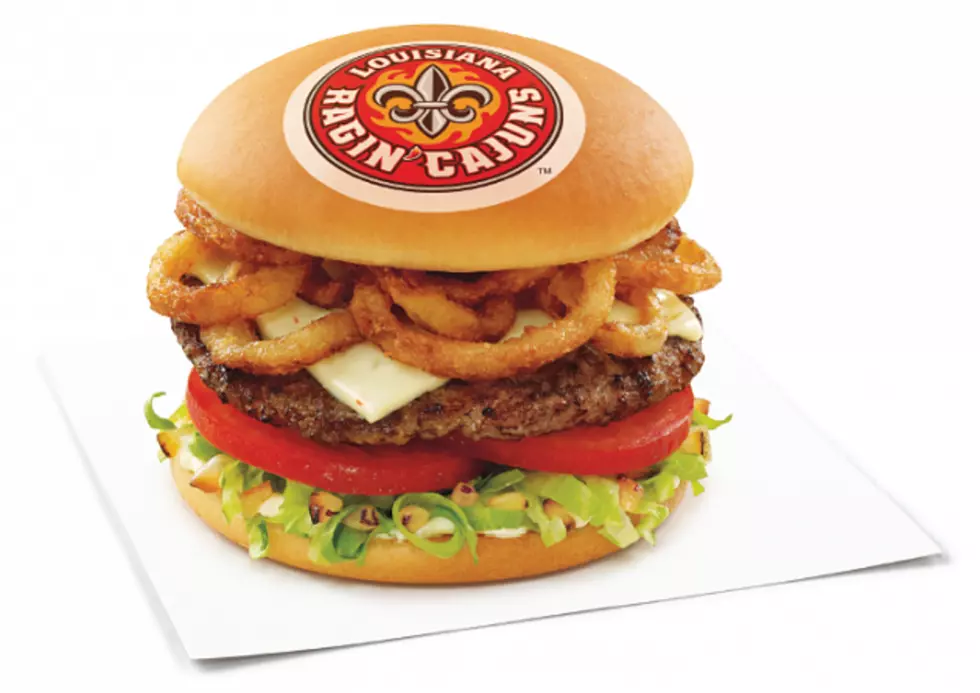 Ragin' Cajuns Logo Makes Triumphant Return to Sonic Ragin' Cajun Cheeseburger
Sonic
For the past several years, Sonic has rolled out a seasonal cheeseburger to celebrate our wonderful university in town.
The Ragin' Cajun cheeseburger has been a fan favorite at Acadiana-area Sonics since 2012. However, in recent years something has been missing -- the logo.
That poppin', edible Ragin' Cajuns logo that sits on top of the bun is making its return when the burger returns to Acadiana area Sonics this week.
So, why has the logo been missing?
Gary Wilkerson, president of Kergan Bros. (the company over the region's restaurants), told the Acadiana Advocate that its absence was simply due to a packaging change at Sonic.
"The most unique thing about the burger is that has an edible logo," Wilkerson told The Advocate's Megan Wyatt. "And this year, we were able to find another way to do the packaging so that we could put the edible logo back on the bun."
Even without the edible logo, Sonic's customers were big fans of the burger last year. Sonic sold more than 65,000 Ragin' Cajun cheeseburgers during the 2019 football season.
"It was equally as popular," Wilkerson said. "And one of the reasons is that we worked really hard to come up with a good recipe and the right flavors. People are constantly messaging us, asking when the burger is coming back."
In case you haven't had this delicious cheeseburger, you should definitely give it a try. It features Tabasco mayonnaise, pepper jack cheese, fried and grilled onions, lettuce, tomato and a packet of Tony Chachere's Creole seasoning on the side. It'll set you back $4.39 for the sandwich or $6.99 for the combo.
The Ragin' Cajun cheeseburger returns to Acadiana Sonic locations today and will be available throughout the Ragin' Cajuns football season.
Nine Restaurants We Need In Lafayette