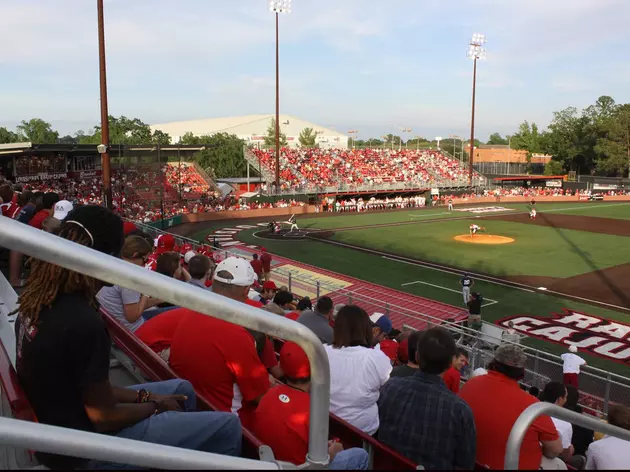 Ragin' Cajuns Set to Host Regional — All You Need to Know
RaginCajuns.com
Louisiana's Ragin' Cajuns baseball team will be hosting a regional for the third time in school history. The four-team regional gets kicked off on Friday, June 3rd at M.L. "Tigue" Moore Field.
The schedule for the first day of action will look like this:
Friday, June 3
1pm on ESPN3: #2 Sam Houston State (41-20) vs. #3 Arizona (38-20)
7pm on ESPN3: #1 Louisiana (41-19) vs. #4 Princeton (24-19)
The rest of the games will be played on Saturday, June 4 and Sunday, June 5. The regional is a double-elimination format.
So you say you want to go cheer on the Cajuns? Well, it will no doubt be a packed house when the Cajuns play.
Cajuns' season ticket holders get priority and can purchase by logging on to their Account Manager at RaginCajuns.com, stopping by the Cajundome Box Office from 10am-5pm or by calling the Regional Call Center at (337) 265-2170.
RCAF 2016 Annual Fund donors can request tickets and baseball season ticket holders may request additional seats through RaginCajuns.com. Fans can download the Regional order form and email it to ultickets@cajundome.com or call (337) 265-2170.
The deadline for season ticket holders to reserve their season seats is 5pm on Tuesday, May 31st.
The deadline for RCAF 2016 Annual Fund donors to request tickets is 5pm on Tuesday, May 31st.
Prices for NCAA Regional Ticket Booklets are:
Bleacher Seats - $75.30 (including tax)
Box Seats - $85.80 (including tax)
Grandstand Seats - $96.30 (including tax)
If you can't make it to the game, it'll be broadcast on the Ragin' Cajuns radio network on News Talk 96.5 KPEL, online at kpel965.com and on RadioPup. Pregame for Friday's game will begin 30 minutes before first pitch.