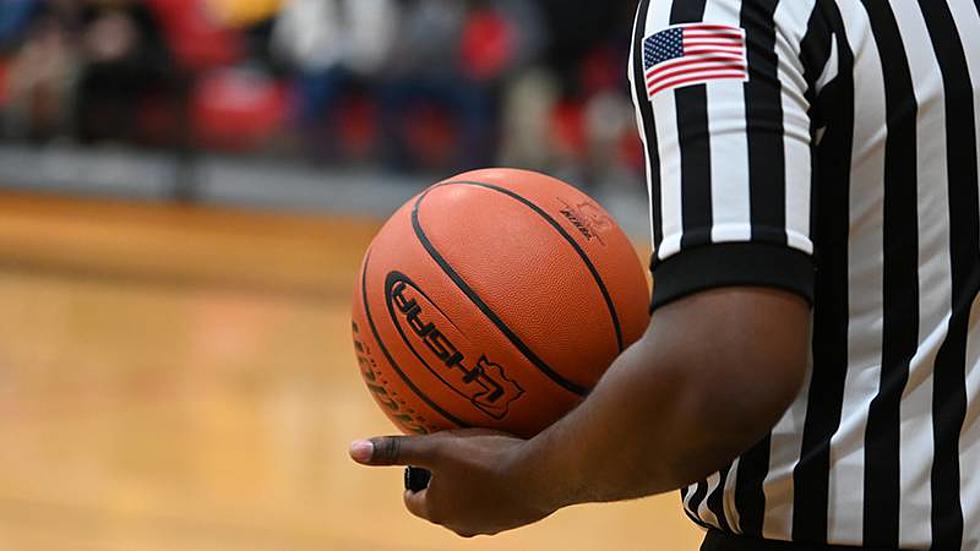 STM, Southside, More Lafayette Schools in 2nd Round of LHSAA Boys Basketball Playoffs
LHSAA
Several area high school basketball teams will attempt to move on to the next round of the LHSAA playoffs tonight, including teams right here in Lafayette Parish.
In both the Select and Non-Select brackets, the Acadiana area is well-represented in Round 2 of the playoffs. Winners in this round will move ahead to the quarterfinals, which will be played later this week.
Division I Playoffs
Southside High School, the No. 10 team in the Division I Non-Select bracket, will be traveling to Lake Charles to take on the No. 7 Barbe Bucs. The Sharks beat Destrehan 81-52 late last week to secure this 2nd round match-up.
Barbe is also a district rival of Southside's, and the two teams have met twice this year. Southside beat Barbe in late December but lost to them in the final district game of the year in mid-February.
Tonight's game is at 7 p.m. at the McNeese Legacy Center in Lake Charles.
Also in the Division I Non-Select bracket, top-seeded New Iberia Senior High will host No. 16 East Ascension at home at 7 p.m.
In the Division I Select bracket, No. 2 St. Thomas More will host No. 15 Edna Carr at home. The Cougars have beaten Edna Carr once this year, but it was early in the season. They'll return to their home court tonight at 6:40 p.m.
Division II
In the Select bracket for Division II, three schools in Lafayette Parish - all from the same district - will be playing tonight.
No. 7 Lafayette Christian Academy is the only one of those three playing at home as they host No. 10 St. Michael the Archangel tonight. The Knights are well-rested after a first-round bye.
No. 13 Northside High will be headed to No. 4 Vandebilt Catholic for a 6:30 p.m. contest. The Vikings beat No. 20 Booker T. Washington in Shreveport in a narrow 61-58 game to advance to this round.
Meanwhile, the David Thibodaux Bulldogs, sitting at No. 15 in the bracket, will travel to No. 2 Peabody for a tough match-up at 6 p.m. tonight. The Bulldogs are fresh off a 61-47 win over No. 18 De La Salle in the first round.
No. 5 St. Martinville hosts No. 12 Plaquemine at 7 p.m.
No. 6 Breaux Bridge hosts No. 11 Loranger (TBD)
No. 13 Opelousas heads to No. 4 Bossier at 7 p.m.
No. 16 Abbeville travels to No. 1 Wossman in Monroe at 6:30 p.m.
No. 19 Beau Chene goes to No. 3 Carroll in Monroe at 7 p.m.
Division III
In the Division III Select bracket, No.13-ranked Ascension Episcopal will travel to take on Dunham, the No. 4 team in that bracket. That game will be in Baton Rouge at 6:30 p.m. ]
The winner of that game will take on No.5 M.L. King Charter later this week.
Another Acadiana-region team playing in Division III, but on the Non-Select side, is No. 8 Ville Platte, who will host No. 24 Red River at home at 6:30 p.m.
Division IV
Two regional Catholic schools competed but fell last night in 2nd Round play. The No. 10 Vermilion Catholic Eagles lost to No. 7 Southern Lab, 70-38. Meanwhile, No. 12 Opelousas Catholic dropped their 2nd Round game to No. 5 Hamilton Christian, 81-56.
Division V
In the Division V Select bracket, No. 4 J.S. Clark will host No. 5 Claiborne (TBD), while No. 7 Episcopal of Acadiana travels to Family Christian Thursday at 6:30 p.m.
Here Are 31 Quirky High School Mascots In Louisiana
Top 10 High Schools in Louisiana
There are some new schools to make the list.