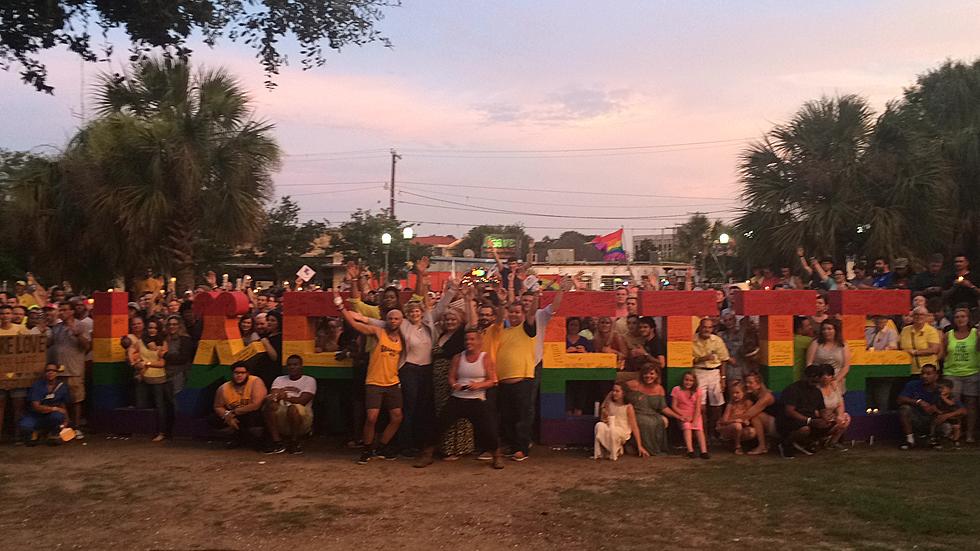 Police Seeking to Identify Suspect in Lafayette Pride Sign Crime
(Photo by Dana Baker)
Lafayette City Police are looking for your help in identifying the suspect responsible for defacing the Lafayette Pride sign at Parc Sans Souci.
The "Lafayette" sign at Parc Sans Souci (it's actually "Lafa ette"; you are the "Y") was recently painted with the colors of the rainbow to commemorate Gay Pride Month. PFLAG (Parents and Friends of Lesbians and Gays) has been painting the sign each year ahead of Pride Month. Any non-profit organization can apply to volunteer to paint the sign which must be approved ahead of time. The organization painting the sign must provide all materials and labor to get the sign painted.
At some point, after the sign was painted, someone came by and defaced the sign by splashing paint on several of the letters. Lafayette Police are now looking for a suspect
I can't imagine the hurt felt by the volunteers who painted the sign this past weekend. Not only did it cost them more money and time to return to repaint the sign, but the meaning behind the vandalism stings. Judging by some of the comments on KATC's Facebook page, many people in Acadiana are okay with this form of vandalism against the LGBTQ community. I, for one, am not.
.
Detectives with the Lafayette Police Department believe that the individual pictured above is the one responsible for defacing the paint job.
If you can identify this man, get in touch with the  Lafayette Police or Lafayette Crime Stoppers at 232-TIPS.
70 Google Maps Images That Show How Much Lafayette Has Changed
5 Worst Intersections in Lafayette According to You
Seven Times Lafayette Has Been Featured on Jeopardy