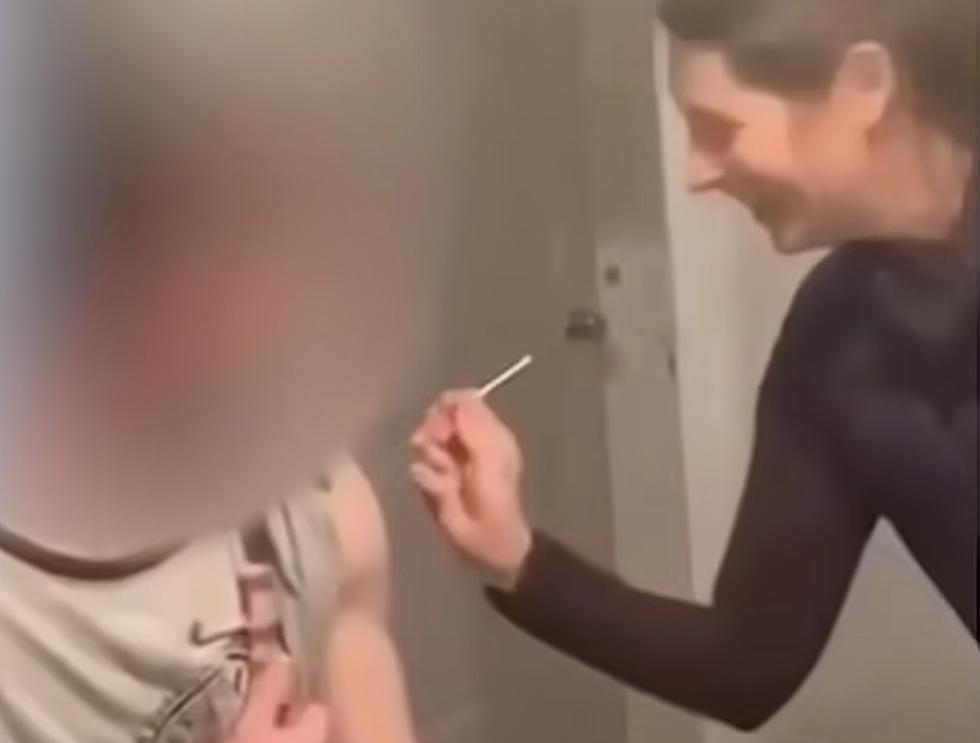 Watch The Moment a Teacher Allegedly Injects Son's Friend With COVID Vaccine Without Permission
Twitter, NBC New York
A Long Island woman is facing charges after allegedly injecting a teen with the COVID vaccine.
According to an NBC New York report, 54-year-old Laura Parker Russo did not have permission to give what is believed to be a COVID vaccine to the teenage boy inside of her Sea Cliff home on New Year's Eve.
The 17-year-old boy returned home to tell his mother what happened and she immediately called the police. The report says she "had not given permission or authority to have her son receive the vaccine."
Police say they investigated the situation upon arrival and realized that Russo was not a doctor, a medical professional, or authorized to administer vaccines in any capacity.
The woman was placed under arrest and has been charged with "unauthorized practice of a profession" for her alleged injection of the teenage boy. Russo has also been removed from the classroom where she works as a science teacher at Herricks High School and reassigned "pending the outcome of the investigation" according to local superintendent Fino Celano.
The alleged incident is non-school related. As this is a matter of personnel, the district has no further comment.
Russo allegedly hung up on a reporter after they called a number believed to belong to her before they could ask for comment.
Since then, video of the alleged incident has surfaced, showing the moment of the injection at the center of this viral story.
Nassau Police say they have no clue how Russo obtained the vial used for the injection but are currently investigating.
Russo is due to appear in court on Jan 21.
LOOK: What major laws were passed the year you were born?
Data for this list was acquired from trusted online sources and news outlets. Read on to discover what major law was passed the year you were born and learn its name, the vote count (where relevant), and its impact and significance.