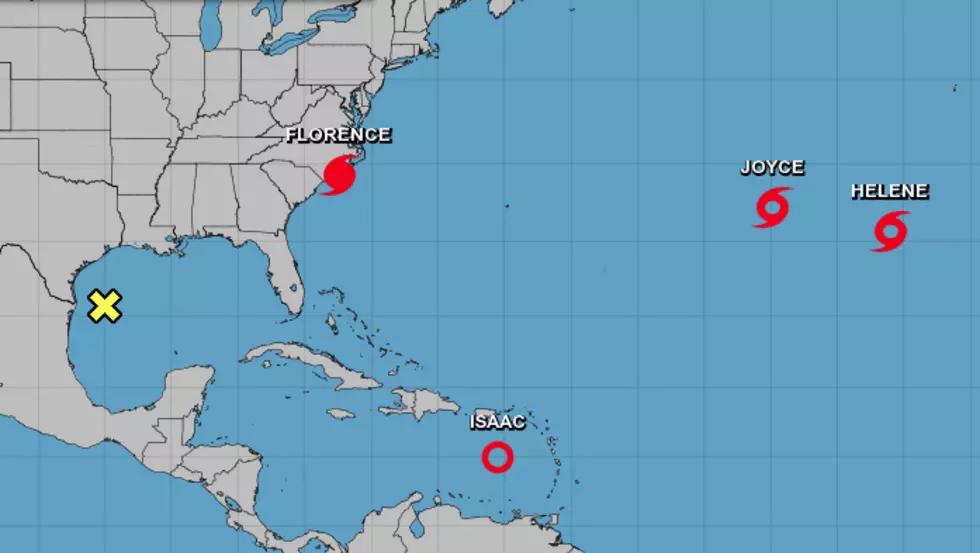 Tropics – Florence Poised For Landfall, Threat In Gulf Lessens
nhc.noaa.gov
Once major Hurricane Florence is now a much weaker storm. The category 1 storm, down from a category 4 at one time, is poised to cross the Carolina coast shortly after sunrise this morning. Just because the storm has been downgraded doesn't mean the threat to life and property has diminished because it hasn't.
At 4 AM CDT, the center of circulation of Florence was 25 miles east of Wilmington North Carolina. The system was moving to the west-northwest at 6 miles per hour. The maximum sustained winds were at 90 miles per hour.  At this direction and speed, the storm system should be onshore within the next couple of hours.
Florence's winds may have died down but the slow movement of the system will bring copious amounts of rain to the North and South Carolina coast. Florence is expected to remain at least a tropical storm until sometime on Sunday.
Meanwhile, there is good news for the Gulf of Mexico. That tropical wave that was forecast to reach tropical depression status appears to be losing its punch. Forecasters with the National Hurricane Center say that conditions are conducive for the storm to get stronger however, the system is so close to the coast it probably won't have time to be anything more than a rainmaker for South Texas and Northern Mexico.
Tropical Storms Helene and Joyce continue to spin in the central and eastern Atlantic posing very little threat to any major land mass. Tropical storm Isaac has been downgraded to a tropical depression and could dissipate over the weekend in the Caribbean.