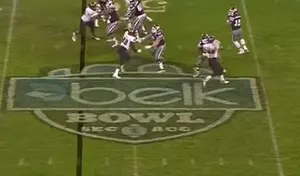 Using College Football Fields To Cover Cuts In Higher Education [Opinion]
ACC Digital Network via You Tube
In the spirit of being totally transparent there are a few things you will need to  know as you consider this rather offbeat narrative on funding for higher education. I really enjoy college football as a fan. I really believe higher education is the only way we are going to improve the quality of life for our state. I believe in free enterprise, capitalism, and the fact that in America you have the right to be as unequal as you choose to be.
I spent a lot of time in front of my TV during college football bowl season. I love watching the bowl games. There are match ups that we fans don't normally get to see. There are schools and players I am not familiar with I get to watch and admire their skills. There are paid advertisements on the field.
Almost every college bowl game has a paid sponsor. This helps defray the cost of putting the game on even if the trip to bowl  game itself costs the universities who are participating millions of dollars. What if we adapt the spirit the bowl season to the regular season?
Personally I found nothing intrusive about the logo for Belk Department Stores on the field when Mississippi State was owning North Carolina State. I don't have a problem with Allstate Insurance being on the field at the Sugar Bowl.
Why can't schools get sponsor rights for their fields? This money wouldn't go to the athletic program it would go to the school's general fund. This could offset a lot of fluctuation in state budgets. It could also help assist students and parents who might be struggling to pay for college.
I am not suggesting we put advertising on uniforms like a NASCAR driver or even selling the naming rights to the stadium. I wouldn't even go so far as letting an advertiser have the midfield logo. I am simply saying a logo on the 25 yard line does not take away my enjoyment of the game.
It might certainly add to the opportunity that higher education is supposed to offer to all students.  I am not even suggesting that the corporate sponsor is ever mentioned on air or in print. The logo will only be seen by those who attend the game and those who watch a game on television and only when the action happens to occur near the 25 yard line.
Go ahead and tell me why I am wrong. I can't wait to read your comments and get the discussion going. If we are to believe the NCAA and their announcements that more student athletes go pro in occupations other than sports then we should make sure we are training athletes and all students in those occupations for the betterment of everyone.