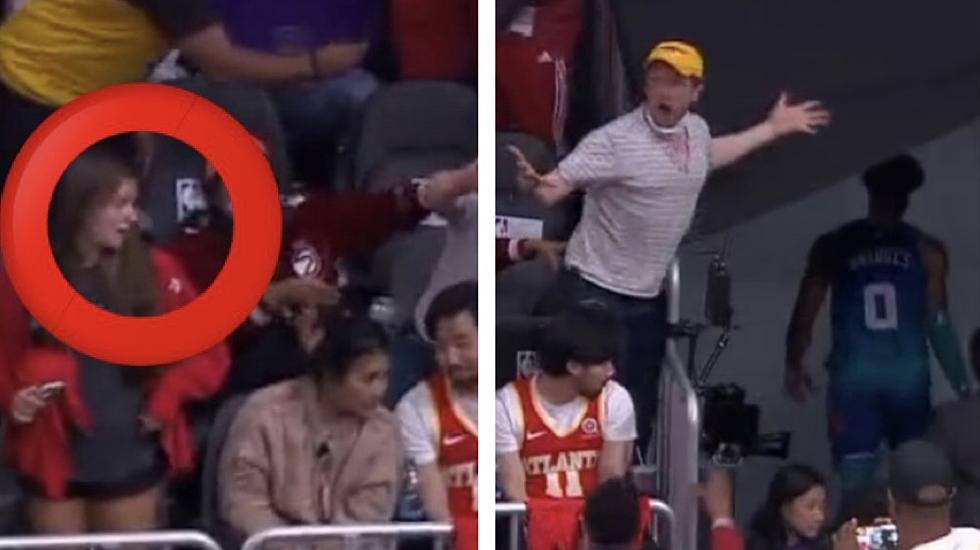 Young Atlanta Hawks Fan Hit with Mouth Guard by Furious Ejected Player
Twitter via @NickCarboniWCNC
As the Atlanta Hawks were near their final moments of defeating the Charlotte Hornets in the NBA play-in round, a member of the Hornets was ejected and subsequently took out his anger on a young fan. Video shows Miles Bridges apparently throwing his mouth guard at a young female fan while exiting the arena.
Things weren't going the Hornets way tonight, as the Hawks were steadily pulling away to defeat the team from Charlotte in the play-in round of the NBA playoffs.
As emotions began bubbling, Miles Bridges of the Hornets received a double-technical and was promptly ejected from the game. His demeanor showed that he was unhappy, but he began exiting the floor.
Along the way, Bridges' emotions got the better of him as he turned to some Atlanta fans and hurled his mouth guard at them. On the receiving end appeared to be a young girl who was quite shocked by the hit to the face.
Miles Bridges Throws Mouth Guard at Young Girl after Being Ejected
See the clip video of Bridges throwing his mouth guard at the fan via @NickCarboniWCNC on Twitter below.
https://twitter.com/NickCarboniWCNC/status/1514413896173563911
The full video of the string of events, including the ejection, can be seen here via @DimeUPROXX on Twitter.
https://twitter.com/DimeUPROXX/status/1514415217672966154
In some semblance of remorse, @MilesBridges has already posted on Twitter the below message.
https://twitter.com/MilesBridges/status/1514419477227708422
While Bridges is apparently attempting to make things right, reactions to the clip on Twitter are rolling in.
https://twitter.com/ComplexSports/status/1514415246638817280
https://twitter.com/big_business_/status/1514415238128586760
https://twitter.com/BleacherReport/status/1514416253309386752
https://twitter.com/RatiodbyBando/status/1514414153624080392