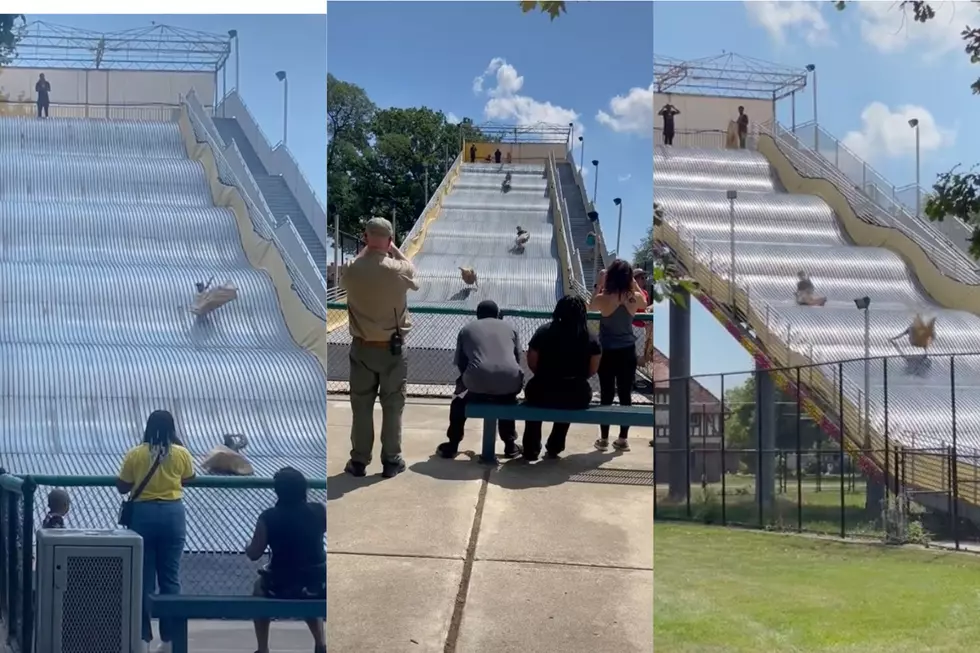 'Giant Slide' Shuts Down Hours After Reopening Due to Speed Concerns, Riders Sent Flying Down Slide
TikTok
"Hold on to your wigs and your glasses."
That's what TikTok creator @donlife can be heard saying at the end of a viral video he posted of people flying down the Belle Isle Giant Slide.
Multiple videos are now being shared as the Belle Isle Giant Slide located in Detroit was quickly closed down due to riders going too fast and bouncing way too high on their way down.
I'll be honest with you—I cringed every time I heard bodies hitting the metal slide, and at least one of those people may need to go into concussion protocol.
I honestly don't even know how this is allowed to be open, let alone run by a public agency, but here I am watching these videos on repeat.
Apparently, this slide is a staple in Detroit, as many commenters waxed nostalgic when they remembered going down the Giant Side as kids. But those same people are saying they don't remember the slide causing folks to pick up this kind of speed.
Reactions on social media were wide-ranging to say the least.
The Giant Slide reopened on Friday, August 19, and was set to run every weekend until Labor Day Weekend. But just hours after it opened, officials with the Michigan Department of Natural Resources (DNR) announced the slide would close down so "adjustments" could be made to control the speed.
Officials found a quick solution, but I'm definitely scratching my head while wondering how this will be effective without getting riders drenched (or stuck for that matter).
scrubbed down the surface and started to spray a little water on the slide between rides to help control the speed. It seems to be working well so please come out and give it a try.
The Giant Slide is set to open again this Friday, so we'll see just how the adjustments work out. In the meantime, the Michigan DNR has posted this entertaining tutorial on how to correctly go down the Giant Slide.
At only $1 per ride, slide riders must also be at least 48 inches tall to risk it all on the Giant Slide.
Please follow directions given by the operator, and remember to lean forward. Have a great time and we'll see you on the Giant Slide!
I definitely hope people are safe and no one gets hurt, but I'll definitely be checking TikTok after this weekend to see more of these wild videos.
KEEP READING: Here are the best places to retire in America