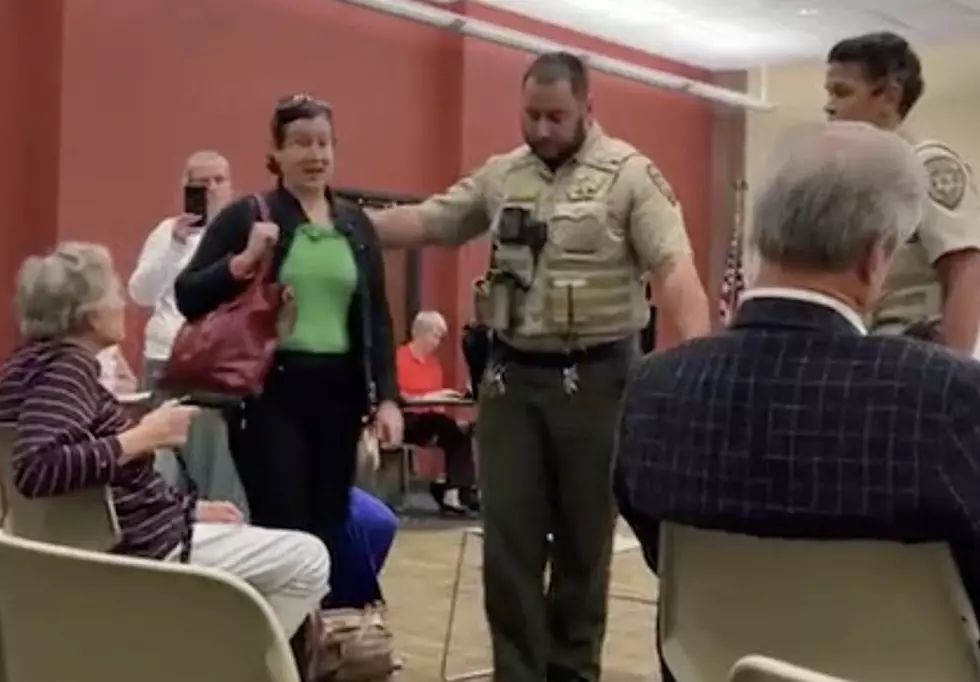 Lafayette Mom Removed from Library Board Meeting Sparks Backlash
Credit: Reproductive Freedom Acadiana/Instagram
LAFAYETTE, La. (KPEL News) - Tensions were once again high at a library board meeting in Lafayette after a local mother who was critical of the board was made to leave by Lafayette Parish Sheriff's deputies.
The woman, who was identified on social media as Melanie Brevis, spoke out strongly against the library board, accusing them of "hateful and prejudicial actions."
After her opening remarks, board president Robert Judge said she was "Out of order," but she waved him off and kept going.
"We know all we need to know," she continued. "We know a certain trio of parish council members have a clear type when selecting board of control members, and that type is a simple checklist: conservative, Christian, willing to toe the false narrative that there is a leftist takeover and that children are in danger, willing to segregate certain materials due solely to personal beliefs."
She then referred to board member Stephanie Armbruster for previously protesting a drag queen story hour outside the library. At that point, Judge again called her "out of order" again, and later a third time when she referenced him. At that point, she was approached by two Sheriff's deputies and eventually escorted out of the room.
There were loud complaints from the crowd and subsequent backlash on social media. A post on Reddit accused Judge of trying to intimidate public speakers.
Apparently Robert Judge didn't like a member of the public reminding him that he tried firing a librarian for no cause and asked 3(!) Sheriff's deputies to escort the speaker out of the meeting before her 3 minutes speaking were up.

As the speaker and members of the public asked what law she broke to violate her rights under open meeting laws the deputies just respond with they're just following orders from Robert Judge.

So, now we're at Robert Judge has the library pay for 3 deputies to intimidate the public and LEOs have no responsibility to know the rights of citizens at public meetings.

So, I guess if you go to these things bring your own lawyer, or I guess you can hire a deputy to arrest Robert Judge if he pisses you off, since LEOs aren't expected to know public meeting laws.
Many commenters were outraged, as well, pointing out that this could end up being a First Amendment issue.
The library board was a center of controversy in 2022 with clashes between activists and the board, led by Judge. One activist was arrested at a meeting last year, and there was a lot of pushback to what some claimed was a book-banning effort.
13 Most Disrespectful Things You Can Say In Louisiana
Louisiana Parishes Ranked By Salaries
Starting from the lowest, here's how Louisiana Parishes stack up when you check the data for average salaries.