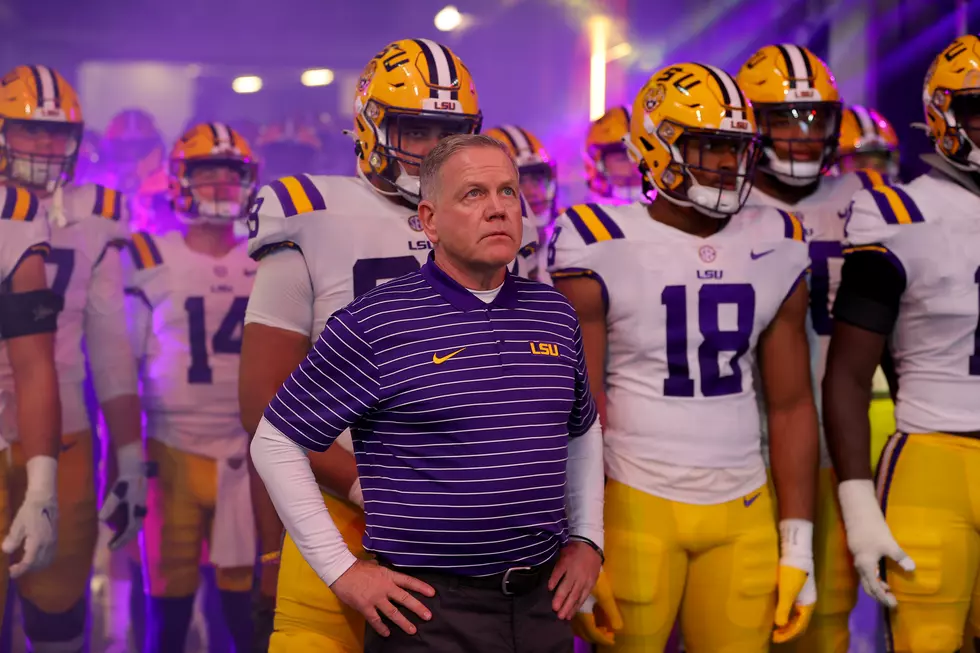 LSU Early Signing Day Class
Photo by Kevin C. Cox/Getty Images
LSU is coming off Brian Kelly's first season as head coach in Baton Rouge, finishing the regular season at a respectable 9-4, winning the SEC West division.
Before the Tigers play Purdue in the Citrus Bowl on January 2nd, Kelly has his sights set on procuring an elite signing class.
Today marks the beginning of the three day early signing period for football recruits in the class of 2022/2023. Starting at 7 AM this morning and running through Friday, recruits will have the ability to sign their National Letter of Intent (NLI) and become members of this year's LSU signing class.
Here's a rundown of the LSU Tigers, along with star rankings given by multiple outlets. It will be updated until the end of the day.
Michael Daughertry
Safety
★★★★
6'1, 175 lbs
Grayson HS (Grayson, GA)
Rickie Collins
Quarterback
★★★★
6'3, 181 lbs
Woodlawn HS (Baton Rouge, LA)
Dylan Carpenter
Defensive End
★★★
6'4, 238 lbs
St. Amant HS (St. Amant, LA)
Jalen Brown
Wide Receiver
★★★★
6'2, 178 lbs
Gulliver Prep HS (Miami, FL)
DJ Chester
Guard
★★★★
6'5, 305 lbs
Eagle's Landing Christian (McDonough, GA)
Mac Markway
Tight End
★★★★
6'4, 250 lbs
De Smet HS (St. Louis, MO)
Khai Prean
Wide Receiver
★★★★
6'0, 193 lbs
St. James HS (Belle Rose, LA)
Zalance Heard
Offenisve Lineman
★★★★
6'6, 300 lbs
Neville HS (Monroe, LA)
Kyle Parker
Wide Receiver
★★★★
5'11, 182 lbs
Lovejoy HS (Allen, TX)
Whit Weeks
Linebacker
★★★
6'2, 215 lbs
Oconee County HS (Watkinsville, GA)
Jackson McGohan
Tight End
★★★
6'3, 231 lbs
Miamisburg HS (Miamisburg, OH)
Ryan Yaites
Safety
★★★★
6'0, 193 lbs
John H. Guyer HS (Denton, TX)
Trey Holly
Running Back
★★★★
5'7, 189 lbs
Union Parish HS (Farmerville, LA)
Tyree Adams
Offensive Lineman
★★★★
6'6, 282 lbs
St. Augustine HS (Marrero, LA)
Dashawn Womack
Defensive End
★★★★
6'4, 220 lbs
St. Frances HS (Baltimore, MD)
Kylin Jackson
Safety
★★★★
6'1, 198 lbs
Zachary HS (Zachary, LA)
Javien Taviano
Cornerback
★★★★★
6'2, 185 lbs
Martin HS (Arlington, TX)
Ashton Stamps
Cornerback
★★★
6'0, 167 lbs
Archbishop Rummel (Harvey, LA)
Ka'Morreun Pimpton
Tight End
★★★
6'6, 220 lbs
North Crowley HS (Fort Worth, TX)
Jaxon Howard
Defensive End
★★★★
6'4, 245 lbs
Robbinsdale Cooper Sr. HS (New Hope, MN)
Christian Brathwaite
Linebacker
★★★
6'3, 220 lbs
Cypress Ranch HS (Cypress, TX)
Jeremiah Hughes
Cornerback
★★★
6'0, 166 lbs
Bishop Gorman HS (Las Vegas, NV)
Paul Mubenga
Offensive Tackle
★★★
6'4, 275 lbs
Buford HS (Buford, GA)
Kaleb Jackson
Running Back
★★★★
5'11, 200 lbs
Liberty Magnet HS (Baton Rouge, LA)
Shelton Sampson
Wide Receiver
★★★★
6'4, 181 lbs
Catholic High of BR (Baton Rouge, LA)
LSU's Top QBs Not Named Joe Burrow
LSU Football Career Receiving Yards Leaders