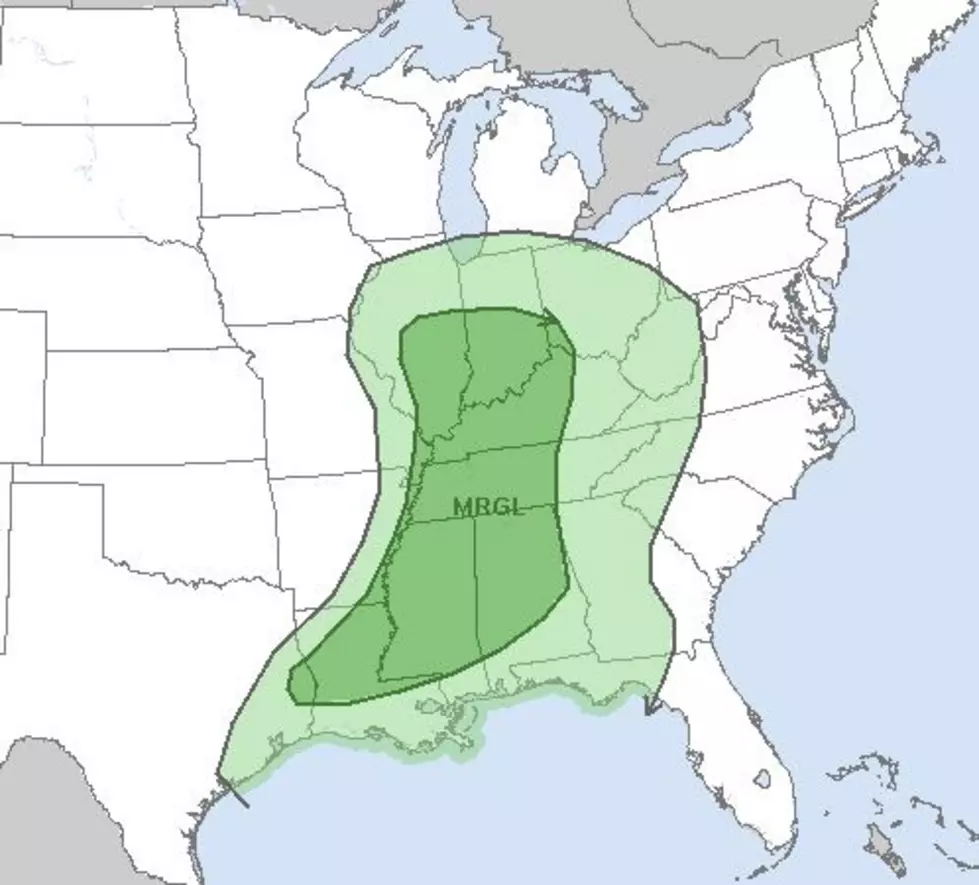 Marginal Risk of Severe Storms in Acadiana on Wednesday
spc.noaa.gov
In a week's time we will transition, I hope, from writing about tropical weather and hurricanes to providing you with information about the more mundane aspects of weather. No, it doesn't necessarily mean we'll be reporting on calmer conditions, in fact, there is a possibility of severe storms over a large part of Louisiana beginning in the northwest corner of the state tonight and spreading across almost all of the state by Wednesday.
The Storm Prediction Center is suggesting that an approaching cold front will have enough energy and lift in the atmosphere to kick off some strong to severe storms as it pushes through the state over the next 36 hours. As the forecast reads right now, the greatest possibility of seeing a strong storm will come north of the U.S. 190 corridor extending northward into southern Arkansas.
Forecasters with the National Weather Service Office in Lake Charles have included a slight risk of a shower for Acadiana tonight with a much better chance of rain on Wednesday. Based on the Weather Service forecast we can expect the bulk of our strong storms and rain to move out of the area in the early afternoon hours as the cold front pushes through.
If you're planning on celebrating Thanksgiving with an outside affair it does look as if Mother Nature will cooperate. Temperatures will be in the middle 70s on Thursday afternoon but there will also be a slight risk of a shower. Personally, I think your Thanksgiving socially distant picnic feast will be fine.
By the way, the next big chill will move into the area over the weekend. A cold front passing through Acadiana on Saturday will drop temperatures into the middle 40s for Sunday morning. Afternoon high temperatures will struggle to reach 60 degrees on Sunday too.
So, it will finally start to feel less like hurricane season and more like Christmas, eventually. If you don't like it, just wait, it will change.
Best Fall/Winter Plants for Acadiana Homes and Gardens