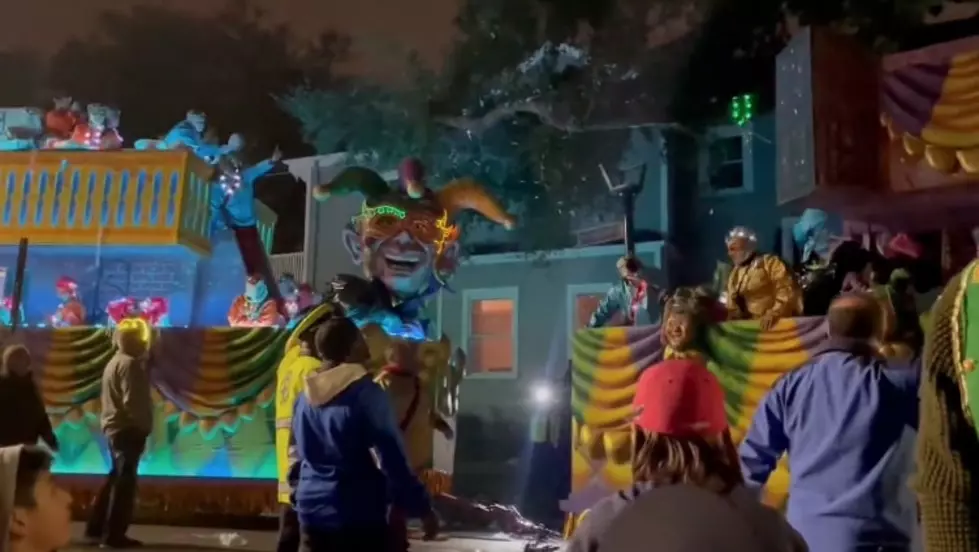 New Orleans Mardi Gras Float Hits Tree, One Person Falls Off
WWL-TV
There's always something interesting going on in New Orleans during Mardi Gras season.
Last night, it was something a little more scary than just interesting though. A float riding Uptown in the Krewe of Pygmalion Mardi Gras Parade had a mishap that nearly derailed the entire parade.
A jester head on one of the floats hit a low-hanging tree branch along the route and fell backward onto the float full of riders.
This was towards the beginning of the route.
A video was captured by WWL-TV and it showed the float wedged against a low-hanging branch.
Reports are that no one was seriously injured in the incident.
However, there is another video captured that shows one float rider fell off of the float.
As bad as that looked, one Twitter user commented that the person was okay.
Yet another commenter on Twitter said that they rode in a different parade in New Orleans on Saturday and said they were constantly having to dart under tree branches.
Twitter user @FloatRider wrote: "I rode in a parade yesterday. The riders on the sidewalk side were constantly having to duck some really big branches that probably haven't been cut since 2019."
The Krewe of Pygmalion parade was ultimately only delayed for 30 minutes until it resumed.
All this comes only one day after a confetti cannon on another parade float went off and hit a transformer, knocking out power to the surrounding area for nearly 30 minutes.
11 Times Tee Shirts Said What We Were Thinking at Mardi Gras
Let your tee shirt do the talking while you're trying to catch beads. Here are 11 things we all want to say at Mardi Gras.