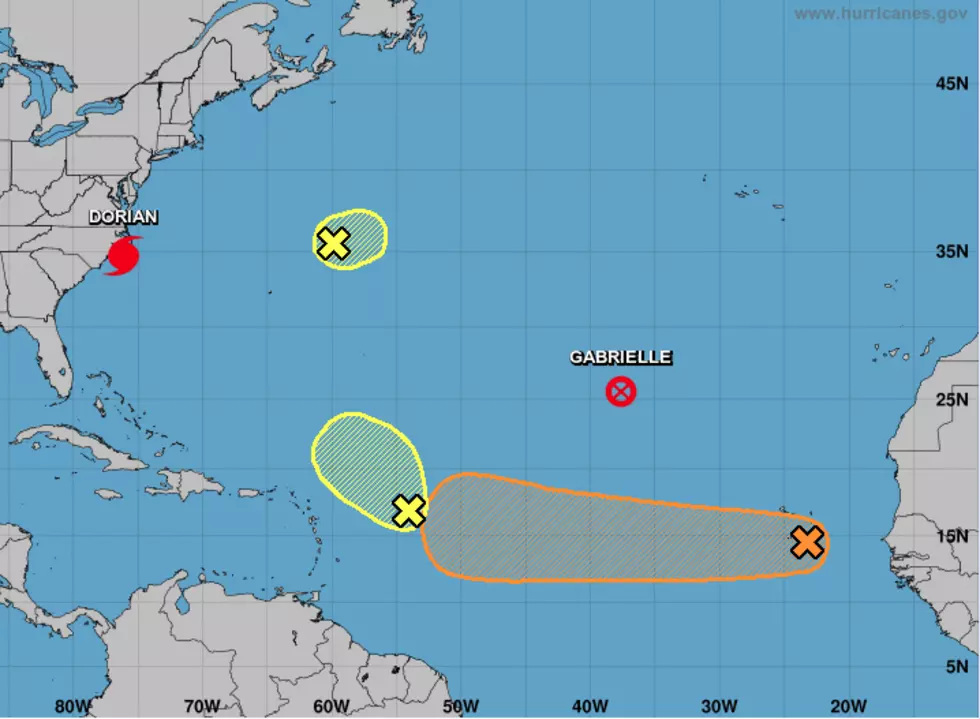 Tropics Remain Active Heading Into The Peak Of The Season
nhc.noaa.gov
The 2019 Hurricane Season has finally gotten fired up. That's not a good thing. Currently, in the tropical Atlantic Basin, there are five areas of tropical weather that have the attention of the National Hurricane Center.
Hurricane Dorian continues to be the system that is garnering all of the headlines. That system will be passing through the Outer Banks of North Carolina during the day today. From there the deadly storm system is forecast to continue a general northeasterly track. On that track, Dorian could Nova Scotia by Saturday night.
Tropical Storm Gabrielle is now Post Tropical Storm Gabrielle. That means the system has lost some of its tropical characteristics but is still quite the weather maker on the open seas. Fortunately for us, the open ocean is where forecasters expect Gabrielle to stay.
There are three other tropical waves or low-pressure systems the National Hurricane Center is watching. Two of them, the one located northeast of Bermuda and the one located east of the Leeward Islands are not forecast to strengthen over the next five days.
However, that third tropical wave that is just off the west coast of Africa is one I will be watching closely. It's currently centered at about 15 degrees north and 23 degrees west. These low latitude tropical waves tend to travel well across the warm waters of the open ocean. Forecasters believe this will be the case with this wave too.
Over the next five days, the Hurricane Center has given this system a 60% probability of becoming a tropical cyclone. Based on the model track guidance about the time the system would be getting stronger is about the time it would be approaching the Caribbean Sea. On the bright side, we will have the next seven to ten days to monitor this system and fine-tune its track guidance.