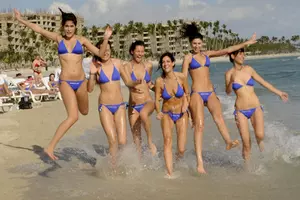 FDA Expected To Ban Minors From Using Tanning Beds
Gianni Ferrari, Getty Images
Here in the South a healthy glow and a summertime tan are almost part of our wardrobe. It's not uncommon for a lot of us to spend weekends at the beach or the pool or even in the backyard wearing as little clothing as possible. It's just what we do. Now we are finding out that what we do might not be in our best interest.
In recent years we are finding out more and more about exposure to dangerous UV rays and how that sun exposure can lead to serious health conditions. Those risks are elevated even more by the use of indoor tanning facilities or tanning beds. The FDA is expected to take steps to further regulate the use of these tanning devices including making them off limits to those under the age of 18.
The effects of exposure to ultra-violet radiation are cumulative. So if you're exposed as a young child or teen, you might be at greater risk for skin damage in your lifetime.
Those are the words of Dr. Sarah Jackson as reported by the Louisiana Radio Network. Dr. Jackson is an Associate Clinical Professor and Dermatologist with LSU.  She said that over 1.6 million people under the age of 18 use tanning beds regularly. She also said that the American Academy of Dermatologist is in total support of this kind of regulation on indoor tanning equipment.
The American Academy of Dermatology and the American Academy of Dermatology Association have been advocating and there are now 42 states that are limiting indoor tanning.
Current Louisiana law prohibits anyone under the age of 18 from using a commercial tanning bed. The difference this FDA regulation will make is this. If the regulation passes then all states must prohibit minors from using commercial tanning beds and all adults who use tanning beds must first sign a waiver indicating they know the dangers associated with using the beds. This waiver and consent form will need to be signed every six months.
The proposed regulation by the FDA is now in the public comment phase. If you'd like to offer your opinion you may certainly do so by directing your opinion to this FDA website.