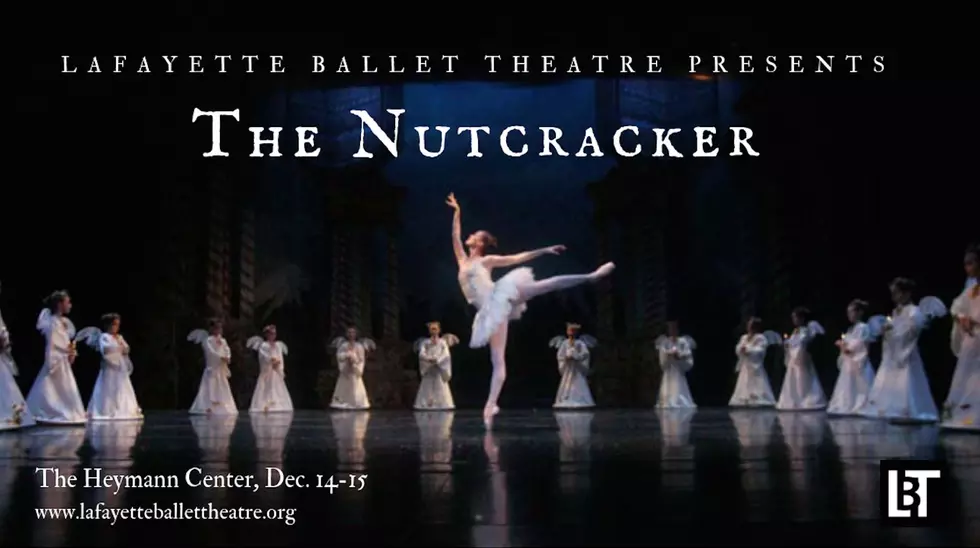 Lafayette Ballet Theatre Presents Tchaikovsky's "The Nutcracker"
Facebook page, Lafayette Ballet Theatre
Lafayette Ballet Theatre presents Tchaikovsky's "The Nutcracker", an annual presentation of the holiday classic based on the story of E.T.A. Hoffmann's "Nutcracker and the King of Mice". Lafayette Ballet Theatre includes over 140 local students in its annual Nutcracker performances.  Productions include International Principal guest artists performing the lead roles.
What makes this classic performance so special, is that LBT opens up the roles to the dancers in our community.  They hold auditions every year around September to offer students that don't attend LBT the opportunity to showcase their talent in the production.
Auditions are open to students 8 years and over, with at least one full year of ballet training and currently studying ballet in an established dance program. Once the cast is decided on, intense practices begin to put the production together each year. With direction from Shannon and Mitzi Heath, the holiday classic comes to life.
Lafayette Ballet Theatre was founded in 1982 offering a classical ballet company in our artistic community. Its official school, Dance Conservatory, was established a couple of years after.  The Conservatory currently supplies 90% of the company's dancers.  For over two decades, LBT has presented full-length classical story ballets to the Lafayette community. Shannon Heath and Mitzi Heath are the Artistic Directors leading Lafayette Ballet Theatre.
Treat yourself to one of the presentations of Lafayette Ballet Theatre's "The Nutcracker" if you'd like to experience the magical spirit of Christmas.  Performances this Saturday, December 14th and Sunday, December 15th. Don't forget to experience the Land of the Sweets event after the performance on Sunday, December 15th where you can step into the magic and meet your favorite Nutcracker characters while you taste all of the delicious sweets.
For more information call LBT at (337) 262-0444 or Heymann Center box office at (337) 291-5555 or click here.