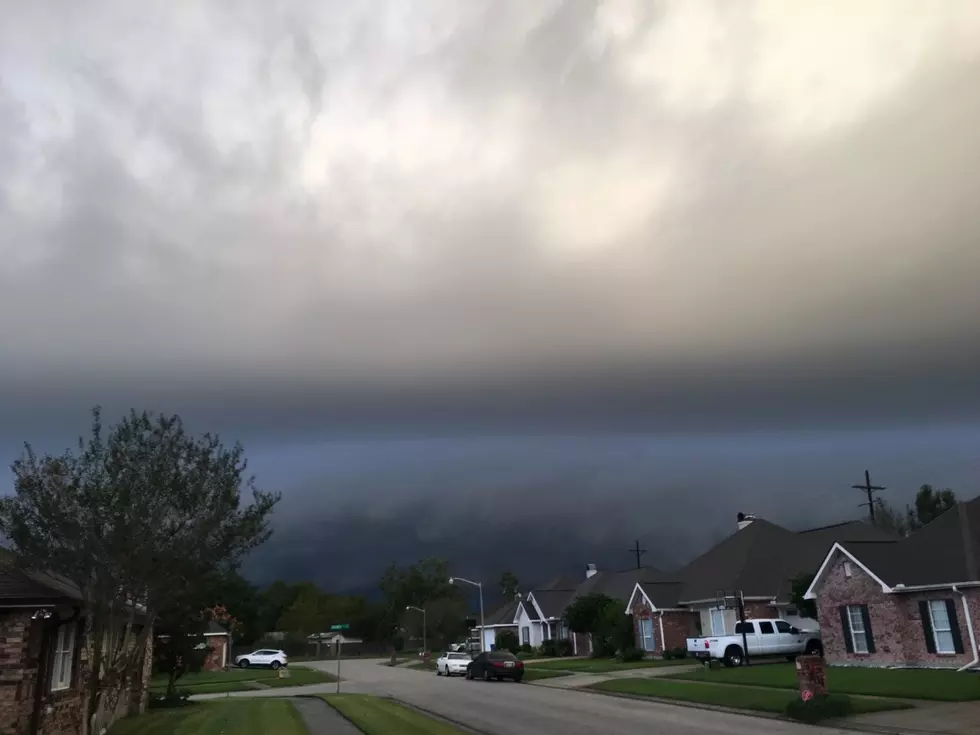 Timing Louisiana's Storm and Heavy Rain Threat Today and Friday
Staff Photo
Scattered showers have already been indicated by weather service radar installations in Lake Charles and Shreveport this morning. Those weather radar sites will likely find their screens filled with indications of even more showers and thunderstorms as we move through today and Friday.
Forecasters with the National Weather Service in Lake Charles are suggesting that the southern part of the state will see widely scattered showers during the day today but those showers will increase in coverage and intensity as we move through the evening hours into Friday morning.
By Friday morning showers and storms, some of them heavy or possibly severe could rumble through the area dropping a lot of rain in a very short time. The Weather Prediction Center has included much of western Louisiana, including Lake Charles and Lafayette in or near the slight risk zone for an excessive rainfall event.
Basically, that means, forecasters, believe some of the rainfall rates will exceed drainage rates for localized areas. This could lead to some ponding of water on the roads or even cause some roadways to temporarily flood.
KATC Television's Chief Meteorologist Rob Perillo has created graphics from some of the different models he uses to forecast our weather. In the HRRR Rainfall Model, Rob's graphic shows rainfall totals of 2 inches to be quite common for cities like Lafayette, New Iberia, and Breaux Bridge. That's it pictured above.
The GRAF Model solution has yielded similar results with the main difference between the two model solutions being where on the map the heaviest rain might fall. The GRAF Model suggests less rain for Lafayette and Breaux Bridge but more for New Iberia and other communities that are closer to the coast. You can see the model solution below.
In his blog post on the KATC website, Rob did mention the possibility of showers and storms "training" over a specific area. This could lead to high water rising fast in some localized parts of southern Louisiana so do remain weather aware and turn around and don't drown if you encounter a roadway that has been inundated with water.
So, when should expect the worst of the weather? Based on the GRAF Model solution most of us should be sound asleep when the heaviest rains and thunderstorms move through the area.
Once this line of showers and storms moves through there will be some residual rainfall left behind but conditions should start to improve as we move through the day on Friday.
The outlook for the New Year's Weekend is much quieter. Forecasters are suggesting the rain should move away from the area late on Friday, leaving New Year's Eve and New Year's Day to be mostly sunny with seasonable temperatures.
PICTURES: Betty White's Charming Home Sells for $10.7 Million
Television legend Betty White's charming Los Angeles home has sold, and pictures show a surprisingly modest residence. The 5-bedroom, 6-bathroom, 3,029-square-foot house was listed for $10,575,000, and it sold for $10,678,000. The listing essentially says it is destined to be torn down.