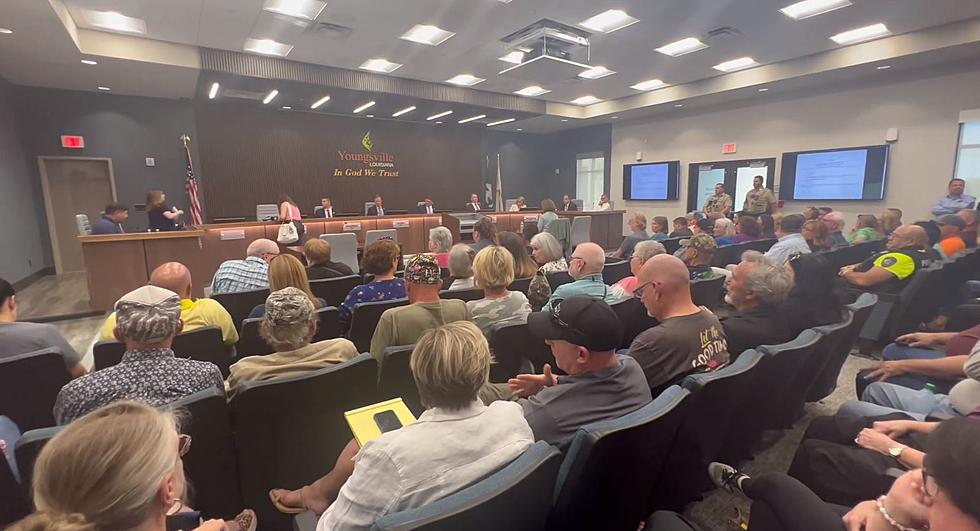 Youngsville City Council Votes to Have Chief of Police Rickey Boudreaux Investigated
Gabrielle Riles News 15, Facebook
Following a very tense meeting last night, the Youngsville City Council voted to have Chief of Police Rickey Boudreaux investigated following public outcry over his investigation into a November crash involving a now-former councilwoman.
The council voted to have the city's attorney find three HR firms that could investigate Boudreaux and the police department. The investigation would cover every day since Boudreaux was first sworn in until Thursday.
The vote came hours after the council member in question resigned. Kayla Reaux announced earlier in the day that she would resign her elected council position in the wake of public backlash related to her November 2022 crash in which many believe she received preferential treatment by the chief of police.
Boudreaux spoke at last night's meeting and some of his words weren't received well by the standing-room-only crowd.
He called The Acadiana Advocate journalist who wrote the original article that sparked the public outrage a "trash reporter."
Boudreaux said he was asked to take administrative leave from his elected position. It's something he apparently is not ready to do.
"I say good luck. That will not happen," Boudreaux said in the meeting. "I did nothing wrong criminally, morally, or ethically. And I say to you loudly and proudly: I refuse to resign and remind you again you do not have the power to make that decision."
Boudreaux did say he would cooperate with the investigation but said an investigation into the mayor and council should also take place.
He said he has been asked numerous times by council members to "fix" tickets for their family and friends. Boudreaux also claimed the council violated the state's open meetings law by meeting with the mayor earlier this week in private to discuss public matters.
"I want this inquiry. I do. I 100% am ready for them to come in and do their investigation," Boudreaux said.
There were several residents at the meeting that spoke out. One was Marcello Joiner, and he had this to say:
The thing that really got to me was, I used to be in law enforcement and it really aggravated me. Coming from law enforcement and being black, at that time of the night? She hit a parked vehicle. She could have taken a life, and nobody is really even caring too much about that and the fact that she called the chief of police, and he's going to sing that damn song and he's going to stop the investigation because it's officer discretion. Just the disrespect to the ones who actually do the job, the ones that actually care. I just don't get it. I don't think anybody's really taking this seriously enough. You put this badge on, and you're supposed to represent something. This excuse, I've got a head injury, you just came from his house. What's going on? It's a joke to me because I wouldn't have got officer discretion. I would be on the ground with cuffs. It's really upsetting.
Whatever the outcome of the investigation, it appears this will take some time to resolve. But it sure doesn't seem like Chief Boudreaux will be going down easy.
"I will not sit down and take it," Boudreaux said. "I will fight to the bitter end."
---
In case you haven't seen it, here is the officer camera footage of the entire incident involving Kayla Reaux and the crash she was involved in at Sugar Mill Pond.
10 Little Things that Grind Our Gears in a Great Big Way
The following items are the kind of things that might not even hit your radar on a normal day. However, on a day when all the little things are not going your way, these might just send you over the edge. It's better you laugh at them now, instead of blowing a gasket and having to call a lawyer later.