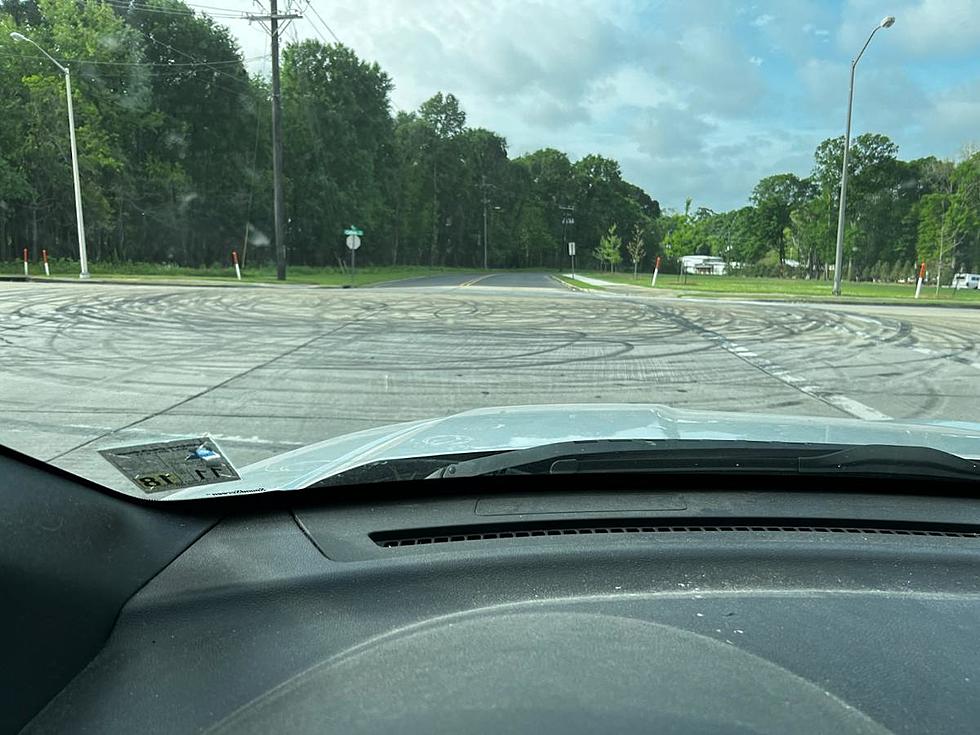 Lafayette Police to Crack Down on Drifters, Reckless Drivers
Submitted Photo
Lafayette police say they are looking for the person or persons responsible for Saturday night's reenactment of the Fast and the Furious on the city's streets and in local parking lots.
According to Sgt. Robin Green of the Lafayette Police Department, officers received complaints about drivers burning out and cutting donuts at the intersection of South College Road and Market Place, on Louisiana Avenue near Surrey Street, and from the Kohl's parking lot on Ambassador Caffery Parkway. Tire marks are visible at those locations. In addition, tire tracks are visible at the intersection of West Congress and North Domingue. However, Sgt. Green did not specify that intersection as one of the locations from which they received a complaint.
Video of the Kohl's parking lot incident was captured on video that went viral on Facebook Sunday morning.
"This event has really blown up on social media and has been assigned to a detective," Sgt. Green said. "This detective will investigate this incident to the fullest. The individuals responsible for these actions--these dangerous actions--will be identified and charged."
The suspects in the Ambassador Caffery case eluded police by escaping through heavy traffic in the area. Sgt. Green says the responding officer did not pursue the suspect vehicle out of concerns for the safety of other drivers in the area. If caught, the suspects in the Saturday burnout incidents would be booked on misdemeanor charges. However, if officers learn that any property was damaged or if anyone was injured, the suspects could face felony charges.
Sgt. Green says LPD is now taking proactive measures to catch the people who cut donuts, perform burnouts, or take part in any other similar activity.
"Our plans going into the future are (that) we are going to be putting out more cameras in strategic areas to help with identifying these acts as they are happening and to help us identify the major people who are responsible for these car meets," Sgt. Green said.
Sgt. Green urges people who see events like this in action to call 911 or the Lafayette Police Department at 337-291-8600. If you have any information about Saturday's incidents, call Lafayette Crime Stoppers at 337-232-TIPS.
To listen to the full press conference, start the player below.
Seven Forgotten Facts About Lafayette
The area now known as downtown Lafayette was first settled 200 years ago. While the street grid of that original settlement is the same as it was then, the rest of the city has grown and changed exponentially. Let's take a look at some of those changes by taking a look at some of the forgotten facts in Lafayette history.
Lafayette: 1981 vs. 2021
The Seven Modern Wonders of Acadiana
These landmarks in and around Lafayette leave us in awe and, in some cases, make us think what their designers were thinking.